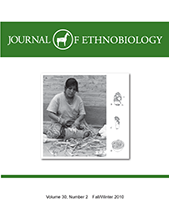 For over 30 years, Journal of Ethnobiology has been publishing manuscripts based on original research in all areas of ethnobiology, the interdisciplinary study of past and present relationships between humans and their biological worlds.  Research areas published in JoE include but are not limited to paleoethnobotany, zooarchaeology, ethnobotany, ethnozoology, ethnoecology, linguistic ethnobiology, and other related fields of study within anthropology and biology.  JoE does not limit itself to a single perspective or approach, but seeks to represent the diversity of the field of ethnobiology (including cognitive, symbolic, linguistic, ecological, and economic aspects of human interactions with the living world).   Papers that significantly advance theory or methodology are particularly welcome.  JoE does not publish uncontextualized data such as species lists; appropriate submissions must elaborate on the cultural context of findings. 
Recent articles include:
Water Chemistry Constraints and Possibilities for Ancient and Contemporary Maya Wetlands
The Significance of Sheep in the Traditional Agriculture of Beira Alta, Portugal
'Le Da Alegria Tener Flores': Homegardens in the Soconusco Region of Chiapas, Mexico
The Use of Bats as Medicine Among the Newars
Members of the Society of Ethnobiology have free access to the Journal of Ethnobiology through BioOne, a unique aggregation of high-impact bioscience research journals. Click here to access the BioOne link. Note: you will require a valid login and password to access this page.