Decolonizing Ethnobiology Resources
This page is a collection of materials consolidated by members of the Society of Ethnobiology with the purpose of sharing ideas for moving toward an ethnobiology which prioritizes (1) power equity, (2) receptiveness to diverse ways of knowing, and (3) social justice.
Many of the contributors are active in social justice and environmental work and are dedicated to unravelling the colonial nature of "doing" work/research in settler nations and Indigenous communities. As a disicipline, ethnobiology is not without it's own history of transcolonial legacies. As noted by one of our Distinguished Ethnobiologists, Gary Nabhan: "We would be remiss to ignore the blatantly colonial or imperialistic tone of some early ethnobotanical studies. They were explicitly undertaken to either a) learn what value could be extracted from another culture's natural resource base as crops, or b) learn how immigrants could take cues from native residents on how to make a living on their shared home ground, even as some of those immigrants usurped water and harvested native plants and wildlife from the homelands of the people that they were studying."
Our purpose here is to reduce any erasure of our colonial past while engaging with the tools and methods in relationship-building and decolonizing academia. Please send any questions/comments and resource suggestions to socialmedia@ethnobiology.org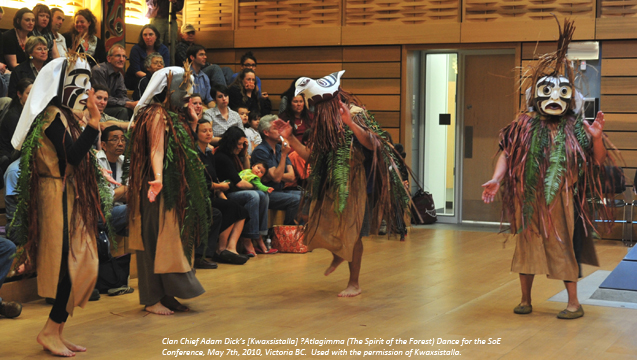 Voices to Follow
@mediaINDIGENA
@KimTallBear - Kim TallBear
@wewap - Bob Joseph
@NCTR_UM - Canada's National Centre for Truth and Reconciliation
@NativeApprops - Adrienne Keene
@Project_562 - Matika Wilbur
Decolonial Theory
Xhopakelxhit. 2014. Everyone Calls Themselves

an Ally Until It Is Time to Do Some

Real Ally Shit. Unsettling America Blog. Link
Dear White People: Being an Ally Isn't Always What You Think. Associated Press, New York Times. Link

Bannister, K., S. Laird, and M. Solomon, 2010. "Fostering 'Mindfulness' in Traditional Knowledge Research: The Code of Ethics of the International Society of Ethnobiology" In S.M. Subramian and B. Pisupati (eds.) Traditional Knowledge in Policy and Practice: Approaches to Development and Human Well-being. United Nations University Press, 121-9.

Caroll, Clint. 2015. Roots of Our Renewal : Ethnobotany and Cherokee Environmental Governance. Minneapolis, MN: Minneapolis, MN : University of Minnesota Press.

Donald D. 2009. Forts, curriculum, and Indigenous metissage: Imagining decolonization of Aboriginal-Canadian relations in educational contexts. First Nations Perspectives, 2(1), 1-24.

Geniusz, Wendy Djinn. 2009. Our Knowledge Is Not Primitive : Decolonizing Botanical Anishinaabe Teachings. 1st ed. Syracuse, N.Y.: Syracuse, N.Y. : Syracuse University Press.

Lambert, Lorelei A. 2014. Research for Indigenous Survival : Indigenous Research Methodologies in the Behavioral Sciences. Pablo, Montana: Pablo, Montana : Salish Kootenai College Press.

Nicholas, G.P. (editor). 2010 Being and Becoming Indigenous Archaeologists. Left Coast Press, Walnut Creek, CA. http://www.lcoastpress.com/book.php?id=277

Ross, Anne, Kathleen Pickering, Jeffrey G. Snodgrass, Henry D. Delcore, and Richard Sherman. 2011. Indigenous Peoples and the Collaborative Stewardship of Nature : Knowledge Binds and Institutional Conflicts. Walnut Creek, CA: Left Coast Press.

Simpson, L. B. (2014). Land as pedagogy: Nishbaabeg intelligence and rebellious transformation. Decolonization: Indigeneity, Education & Society, 3(3), 1-25.

Smith, Tiffany, editor. 2016. Making Space for Indigeneity: Decolonizing Education. SELU Research Review Journal 1(2):49-59.

Tuck, E., & Guishard, M. (2013). Uncollapsing Ethics: Racialized Sciencism, Settler Coloniality, and an Ethical Framework of Decolonial Participatory Action Research. In C. J. Scott, J. F. Berryman, G. T. Huntington, J. Berryman, J. De Lafontaine, N. Gollu, … T. Lam (Eds.), Challenging Status Quo Retrenchment (pp. 3–27).
Tuck, E., McKenzie, M., & McCoy, K. (2014). Land education: Indigenous, post-colonial, and decolonizing perspectives on place and environmental education research. Environmental Education Research, 20(1), 1–23. https://doi.org/10.1080/13504622.2013.877708
Turner, Hannah. "Decolonizing ethnographic documentation: A critical history of the early museum catalogs at the Smithsonian's National Museum of Natural History." Cataloging & Classification Quarterly 53, no. 5-6 (2015): 658-676.

Thomas, Deborah. 2018. Decolonizing Disciplines. American Anthropologist 120(3):393-397.

Tuhiwai Smith, Linda. 2012. Decolonizing Methodologies: Research and Indigenous Peoples 2nd Ed. Chicago: University of Chicago Press. https://www.press.uchicago.edu/ucp/books/book/distributed/D/bo20848589.html

Whyte, Kyle Powis. n.d. "Food Sovereignty, Justice, and Indigenous Peoples: An Essay on Settler Colonialism and Collective Continuance." In Oxford Handbook on Food Ethics, edited by A. Barnhill, T. Doggett, and A. Egan. Oxford: Oxford University Press. Accessed May 21, 2017. LINK

Wilson, Shawn. 2008. Research Is Ceremony : Indigenous Research Methods. Black Point, N.S.: Black Point, N.S. : Fernwood Pub.

Wolfe, Patrick. 2006. "Settler Colonialism and the Elimination of the Native." Journal of Genocide Research 8 (4): 387–409. https://doi.org/10.1080/14623520601056240.

de Sousa Santos, B., 2015. Epistemologies of the South: Justice against epistemicide. Routledge.
To Listen
For the Wild: Homebound Embodying the Revolution with brontë velez (podcat) Link

Future Ecologies: Decolonize this Podcast with T'uy't'tanat-Cease Wyss (podcast) Link

All My Relations (podcast) Link
Resources in Ethnobiology
Armstrong, C.G., McAlvay, A.C. (2019). Special Issue: Action Ethnobiology. Journal of Ethnobiology.

Brown, L. (2015) Research as REsistance: Revisiting Critical, Indigenous, and Anti-Oppressive Approaches
"Intended as a senior undergraduate and graduate text, Research As Resistance brings together the theory and practice of critical, Indigenous, and anti-oppressive approaches to social science research. The book pursues some of the ontological and epistemological considerations involved in such research, including theorizing the self of the researcher and offers exemplars across a range of methodologies, including institutional ethnography, narrative autobiography, storytelling, and participatory action research. This is a unique text in that it describes both theoretical foundations and practical applications, and because all of the featured researchers occupy marginalized locations. It is also firmly anchored in the Canadian context.​​​​​​
Connell, R.W. (2007) Southern Theory: Social Science and the Global Dynamics of Knowledge​​​​​​​​​​​​​​
Beginning with an examination of the hidden assumptions of modern general theory, Southern Theory looks to the 'southern' social experience and the theories that have emerged from Australia, Indigenous peoples, Latin America, India, Africa, Islam and other post-colonial societies, as sources of important and vital contributions to world social science. These myriad theories offer valuable perspectives so crucial to the application of social theory in the contemporary world, having the power to transform the influence of the metropolitan hegemony on social thought by mutual regard and interaction.
Southern Theory is a major new work in social theory, drawing on anthropology, history, psychology, philosophy, economics and cultural studies, with wide-ranging implications for the social sciences in the 21st century.
Chilisa, B. (2012) Indigenous research methodologies

​​​​​​​
​​​​​​​"Responding to increased emphasis in the classroom and the field on exposing students to diverse epistemologies, methods, and methodologies, Bagele Chilisa has written the first textbook that situates research in a larger, historical, cultural, and global context. With case studies from around the world, the book demonstrates the specific methodologies that are commensurate with the transformative paradigm of research and the historical and cultural traditions of third-world and indigenous peoples."
Smith, L.T. (2012) Decolonizing Methodologies: Research and Indigenous People​​​​​​​
"To the colonized, the term 'research' is conflated with European colonialism; the ways in which academic research has been implicated in the throes of imperialism remains a painful memory. This essential volume explores intersections of imperialism and research - specifically, the ways in which imperialism is embedded in disciplines of knowledge and tradition as 'regimes of truth.' Concepts such as 'discovery' and 'claiming' are discussed and an argument presented that the decolonization of research methods will help to reclaim control over indigenous ways of knowing and being."
Environment and Society. Special Issue on Indigenous Resurgence, Decolonization and Movements for Environmental Justice. Volume 9. Link

Kovach, M.E. (2010). Indigenous Methodologies
"What are Indigenous research methodologies, and how do they unfold? Indigenous methodologies flow from tribal knowledge, and while they are allied with several western qualitative approaches, they remain distinct. These are the focal considerations of Margaret Kovach's study, which offers guidance to those conducting research in the academy using Indigenous methodologies."
Lambert, L. (2014) Research for Indigenous Survival: Indigenous Research Methodologies in the Behavioral Sciences

​​​​​​​
Distributed by the University of Nebraska Press for the Salish Kootenai College Press Lori Lambert (Mi'kmaq/Abenaki) examines the problems that researchers encounter when adjusting research methodologies in the behavioral sciences to Native values and tribal community life. In addition to surveying the literature with an emphasis on Native authors, she has also interviewed a sampling of indigenous people in Australia, northern Canada, and Montana's Flathead Indian Reservation.
Members of four indigenous communities speak about what they expect from researchers who come into their communities. Their voices and stories provide a conceptual framework for non-indigenous researchers who anticipate doing research with indigenous peoples in the social, behavioral, or environmental sciences. This conceptual framework created by indigenous stories similarly provides a framework for hope and empowerment as indigenous communities endeavor to pass on their values and stories to future generations.
Posey, D. A., and G. Dutfield. 1996. Beyond Intellectual Property: Toward Traditional Resource Rights for Indigenous Peoples and Local Communities. International Development Research Centre, Ottawa.
Thomas-Muller, C. 2014. The Rise of Native Rights-Based Strategic Framework: Our Last Best Hope to Save Our Water, Air, and Earth. In A Line in the Tar Sands: Struggles for Environmental Justice, edited by T. Black, T. Weis, S. D'Arcy, and J. K. Russell, pp. 240–252. PM Press, Toronto, ON.

Walter, M. & Anderson, C. (2013) Indigenous Statistics: A quantitative REsearch Methodology
​​​​​​​In the first book ever published on Indigenous quantitative methodologies, Maggie Walter and Chris Andersen open up a major new approach to research across the disciplines and applied fields. While qualitative methods have been rigorously critiqued and reformulated, the population statistics relied on by virtually all research on Indigenous peoples continue to be taken for granted as straightforward, transparent numbers. This book dismantles that persistent positivism with a forceful critique, then fills the void with a new paradigm for Indigenous quantitative methods, using concrete examples of research projects from First World Indigenous peoples in the United States, Australia, and Canada. Concise and accessible, it is an ideal supplementary text as well as a core component of the methodological toolkit for anyone conducting Indigenous research or using Indigenous population statistics
WIlson, S. (2015) Research is Ceremony: Indigenous Research Methods
"​​​​​​​Indigenous researchers are knowledge seekers who work to progress Indigenous ways of being, knowing and doing in a modern and constantly evolving context. This book describes a research paradigm shared by Indigenous scholars in Canada and Australia, and demonstrates how this paradigm can be put into practice.
Relationships don't just shape Indigenous reality, they are our reality. Indigenous researchers develop relationships with ideas in order to achieve enlightenment in the ceremony that is Indigenous research. Indigenous research is the ceremony of maintaining accountability to these relationships. For researchers to be accountable to all our relations, we must make careful choices in our selection of topics, methods of data collection, forms of analysis and finally in the way we present information. I&;m an Opaskwayak Cree from northern Manitoba currently living in the Northern Rivers area of New South Wales, Australia. I&;m also a father of three boys, a researcher, son, uncle, teacher, world traveler, knowledge keeper and knowledge seeker. As an educated Indian, I've spent much of my life straddling the Indigenous and academic worlds. Most of my time these days is spent teaching other Indigenous knowledge seekers (and my kids) how to accomplish this balancing act while still keeping both feet on the ground."
Zavala, M. 2013. What Do We Mean by Decolonizing Research Strategies? Lessons from Decolonizing, Indigenous Research Projects in New Zealand and Latin America. Decolonization: Indigeneity, Education & Society 2:55–71.