Effective Approaches to Human Ecology Education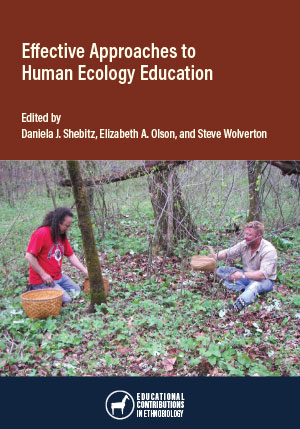 Effective Approaches to Human Ecology Education
Edited by Daniela J. Shebitz, Elizabeth A. Olson, and Steve Wolverton
Available in electronic or print versions.
Print: USD$35.99* Buy now
When you click on the "Buy now" link above, you will be directed to Amazon.com.
Electronic (PDF download):
• Members: LOG IN to access your FREE copy.
• Non-Members: USD$15.00 PDF download (see below)
*All proceeds go directly to the Society of Ethnobiology to support future publications.
Abstract: Effective Approaches to Human Ecology Education is a book of reflective essays written by ethnobiologists who share their creative approaches to helping students learn to recognize and understand connections between society and the environment. In this compilation, scholar-educators share concrete examples of exercises intended for other educators to glean and borrow from. As the contributors in this volume express, there are many nuances to finding effective pedagogical techniques for delivering content in human ecology and ethnobiology to diverse student groups and campuses. Authors describe exercises with which they have successfully reached students through indoor lectures, seminars, and laboratory settings as well as outdoor fieldwork. In addition, the authors provide personal narratives about why they developed these approaches, why they have worked, limitations of the exercises, and what they have learned through implementation. Topics covered in the book range from human ecology education in national parks to capstone experiences in environmental justice, writing seminars, outdoor plant walks, campus medicinal plant inventories, urban tree surveys, and more.
Contents
Effective Approaches to Human Ecology Education
Daniela J. Shebitz, Elizabeth A. Olson, and Steve Wolverton


Chapter 1. Jumpstart, Our National Parks: Using Local Resources and High Impact Educational Practices to Teach Human Ecology in Integrated General Education
Elizabeth A. Olson and William H. Heyborne


Chapter 2. Caw Connections: Observing & Writing About Crows in College
Denise M. Glover


Chapter 3. Working with Indigenous Elders in Biology and Chemistry University Courses
Fidji Gendron, Vincent Ziffle, and Nametha Srikanthan


Chapter 4. Experiential Herbal Medicine Lesson
Amanda Thiel


Chapter 5.The Mandala Exercise for Increasing Ecological Understanding
Steve Wolverton


Chapter 6. Using the Management of Urban Trees to Teach Conservation Biogeography
Lisa Nagaoka


Chapter 7. Getting into the Weeds with Experiential Learning: Discovering Where Medicinal Plants Grow
John Richard Stepp


Chapter 8. Culture, Ecology, and Health in Mesoamerica: An Online Lesson
Amanda M. Thiel and Marsha B. Quinlan


Chapter 9. Training Environmental Professionals through a Collaborative Experiential Learning Capstone
Daniela J. Shebitz and Michael Edelstein


Appendix 1. Elk Hide Tanning Activity
Fidji Gendron, Vincent Ziffle, and Nametha Srikanthan


Appendix 2. Sage Hand Salve—Traditional Plant Uses Activity
Fidji Gendron, Vincent Ziffle, and Nametha Srikanthan


Appendix 3.Porcupine Quill Bookmark Activity
Fidji Gendron, Vincent Ziffle, and Nametha Srikanthan


Appendix 4.Lesson 1: Culture and Ecology in Mesoamerica
Amanda M. Thiel and Marsha B. Quinlan


Appendix 5.Lesson 2: Health and Plants among the Maya of Guatemala
Amanda M. Thiel and Marsha B. Quinlan


Appendix 6. Assignment: Development of Traditional Medicine and Use of Medicinal Plants in Maya Guatemala
Amanda M. Thiel and Marsha B. Quinlan


Author Biographies
Price (USD)

Effective Approaches to Human Ecology Education
Edited by Daniela J. Shebitz, Elizabeth A. Olson, and Steve Wolverton
Downloadable PDF file, 190 pp. with colour images (8.9 MB).

USD$15.00