Early Career Award in Ethnobiology
The Early Career Award in Ethnobiology is given to a professional or academic ethnobiologist who is entering their career and who presents and publishes outstanding scholarship at the Society's annual conference and in the Society's publications. No application is required. The recipient is selected by the voting board members present at the annual conference. The award includes three years of online membership with the Society and a registration waiver for the conference the year following the award. Up to one award is made each year, at the discretion of the Board.
---
Early Career Award Winners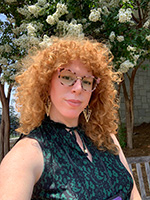 2023 Dr. Samantha Bosco
Dr. Samantha Bosco is an Oak Ridge Institute of Science and Education postdoctoral fellow with the National Agroforestry Center (NAC). She received her PhD from Cornell University in 2022. Her transdisciplinary and community-based dissertation examined the past, present, and future role of temperate nut trees in both Haudenosaunee and non-native communities in NY. She was a 2021 Botany in Action Fellow with the Phipps Conservatory and was awarded a Social Justice award by the Cornell Graduate and Professional School and has since helped organize and deliver TLGB+ justice, equity, and inclusion conversations across agriculture and ethnobiology communities. Before joining NAC, Bosco served as the Agroforestry and Nut Cropping Program Planner for Cornell Cooperative Extension providing technical assistance and agroforestry education across NY. In her free time, Samantha enjoys outdoor adventures, writing songs about queer power, and performing on stage.