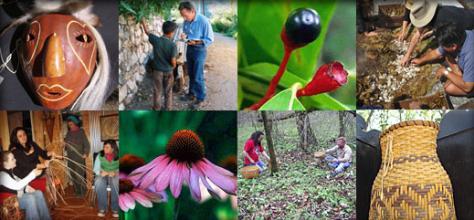 The Society of Ethnobiology is a nonprofit professional organization dedicated to the interdisciplinary study of the relationships of plants and animals with human cultures worldwide, including past and present relationships between peoples and the environment. Our interests encompass ethnobotany, ethnozoology, linguistics, paleoethnobotany, zooarchaeology, ethnoecology, and other related areas in anthropology and biology. We are committed to scholarly research and to inclusive relationships with communities with whom we work and with colleagues around the world.
The Society hosts an annual conference with sessions, field trips, workshops, and a banquet. We produce three peer review publications: the quarterly Journal of Ethnobiology, the monograph series Contributions in Ethnobiology, and the open access journal Ethnobiology Letters. We award excellence in ethnobiology through our Distinguished Ethnobiologist Award, Best Poster Award, and Mentor Award. We recognize student excellence through the Barbara Lawrence Award and the Undergraduate Ethnobiologist Award. Our trio of Graduate Ethnobiology Research Fellowships supports graduate students.
The Society of Ethnobiology is devoted to creating a welcoming community where everyone can thrive in their academic and professional pursuits. Our members work in the field of ethnobiology as employees of academic institutions, nongovernmental and nonprofit organizations, conservation and land management organizations, botanical gardens and arboretums, museums and libraries, and beyond. We welcome people from minority and majority communities as well as people who represent one or more dimension of diversity such as ethnicity, gender, religion, institution affiliation, academic rank, geography, and in additional ways. We encourage our members to optimize equity and to mainta high ethical standards.
A Short History
The Society and Journal of Ethnobiology were founded in 1981 in Flagstaff, Arizona, by two graduate students, Steven A. Weber and Steven D. Emslie. The 1st Ethnobiology Conference, however, was held in Prescott, Arizona, in April 1978 with funding from the Max C. Fleischmann Foundation to Prescott Center College. This funding was awarded to the College so that the uncompleted research of a faculty member and ethnobiologist, Lyndon L. Hargrave, could be finished and published with the help of an assistant, but also stipulated that three annual conferences be held in Arizona in honor of Lyn Hargrave. Steve Emslie was hired by the College in fall 1977 to work with Lyn and he was tasked with organizing the first conference the following spring. After Lyn's passing in summer 1978, his papers and collections were moved to the Museum of Northern Arizona, Flagstaff, where Steve continued work on the grant and met Steve Weber when they were both working on the same archaeological survey project for the U.S. Forest Service. The 2nd Ethnobiology Conference was held in Flagstaff in spring 1979 followed by the founding of the Society and Journal by 1981 (see Emslie 2018 for a full history on the formation of the Society).