Current Issue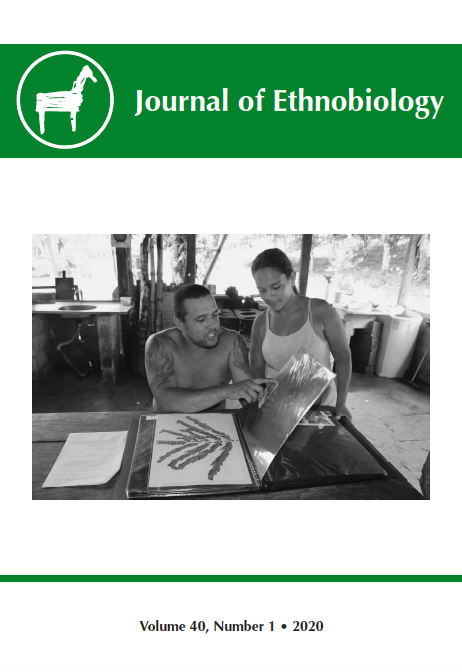 NEW ISSUE OUT NOW!
2020 Volume 40, Number 1
TABLE OF CONTENTS
PHILOSOPHY OF ETHNOBIOLOGY: UNDERSTANDING KNOWLEDGE INTEGRATION AND ITS LIMITATIONS
David Ludwig and Charbel N. El-Hani
EXPLORING THE ECOLOGICAL DIMENSIONS OF DISPLACEMENT IN NÚCLEO ITARIRU (SERRA DO MAR STATE PARK): AN ETHNOBOTANICAL STUDY OF PEASANT/LANDSCAPE RELATIONS IN BRAZIL'S ATLANTIC FOREST
Nicole Katin
ETHNOBOTANICAL KNOWLEDGE ENCODED IN WEENHAYEK ORAL TRADITION
Michelle Scalise Sugiyama, Marcela Mendoza, and Itzel Quiroz
CLASSIFYING MERMAIDS: OBSERVATIONS ON LOCAL NAMING AND CLASSIFICATION OF DUGONGS (Dugong dugon) AMONG THE LIO OF FLORES ISLAND (EASTERN INDONESIA)
Gregory Forth
INTRODUCING THE POTENTIAL MEDICINAL AND ECOLOGICAL VALUE OF A PIONEER TREE SPECIES AS A JUSTIFICATION TO CONSERVE AND SUSTAINABLY MANAGE TROPICAL SECONDARY FORESTS: Vismia macrophylla AS A CASE STUDY
Daniela Joy Shebitz, Lindsey Page Agnew, Angela Oviedo, Gaganpreet Monga, and Dil Ramanathan
WINGED VOICES: MAPUCHE ORNITHOLOGY FROM SOUTH AMERICAN TEMPERATE FORESTS
José Tomás Ibarra, Julián Caviedes, and Pelayo Benavides
A LONG-TERM ASSESSMENT OF THE USE OF Phoenix theophrasti Greuter (CRETAN DATE PALM): THE ETHNOBOTANY AND ARCHAEOBOTANY OF A NEGLECTED PALM
Juan José García-Granero, Melpomeni Skoula, Anaya Sarpaki, Marc Cárdenas, Marco Madella, and Amy Bogaard
Become a member of the Society of Ethnobiology and get free access to the Journal of Ethnobiology — the premier journal exploring the relationship of people to their biological worlds.

Most Read Articles Most Recently Cited Articles

MORE ARTICLES and BOOK REVIEWS are available at Ethnobiology Letters
Submissions
Manuscripts should be submitted through our Online Journal Systems portal at https://journalofethnobiology.org
All submissions will undergo an assessment for suitability and may be rejected if journal standards are not met. See our author guidelines for more details.
Authors who face constraints on internet access may email the editors directly at editor@ethnobiology.org