Issue In Progress: Volume 42, Issue 3
The Journal of Ethnobiology is now publishing individual articles in advance of the publication of the completed issues. When you access the Journal of Ethnobiology on BioOne, you will see a new section: Issues in Progress. If you are a Society of Ethnobiology member, use the BioOne link on the Members Only page to download the full articles. Check the Current Issue page regularly for new articles.
TABLE OF CONTENTS
Locusts and Grasshoppers Acridoidea Ethnobiology of the South American Gran Chaco: A Review
Nicolás M. Kamienkowski
Nuosu Horticulturalists' Local Knowledge of Wild Edible Plants and Fungi and Socio-Economic Implications in Yunnan, Southwest China
Xiaoyue Li, John Richard Stepp, and Bryan Tilt
Differential Use of Game Species in an Amazonian Indigenous Community: Navigating Economics, Subsistence, and Social Norms
Brian M. Griffiths and Michael P. Gilmore
The Hummingbird and the Condor among the Nasa Symbolize Spirituality in the Ceremony of the Saakhelu
Edna Lourdes Orozco Calambas, Fernando Orozco Calambas, and Willian Orlando Castillo Ordoñez
Amazonian Forest Peoples' Perceptions of Malaria on the Upper Rio Negro, Brazil, are Shaped by Both Local and Scientific Knowledge
Gina Frausin, Ana Carla dos Santos Bruno, Ari de Freitas Hidalgo, Lin Chau Ming, William Milliken, and Adrian Martin Pohlit
Useful Plants from the Wild to Home Gardens: An Analysis of Home Garden Ethnobotany in Contexts of Habitat Conversion and Land Use Change in Jeju, South Korea
Yooinn Hong and Karl S. Zimmerer
Human Dimensions of Pangolin Conservation: Indigenous and Local Knowledge, Ethnozoological Uses, and Willingness of Rural Communities to Enhance Pangolin Conservation in Nepal
Tulshi Laxmi Suwal, Sabita Gurung, Manoj Bakhunchhe Shrestha, Daniel J. Ingram, and Kurtis Jai-Chyi Pei
Current Issue: 2022 Volume # 42 (2)
Special Issue: Tropical Agriculture: Past and Present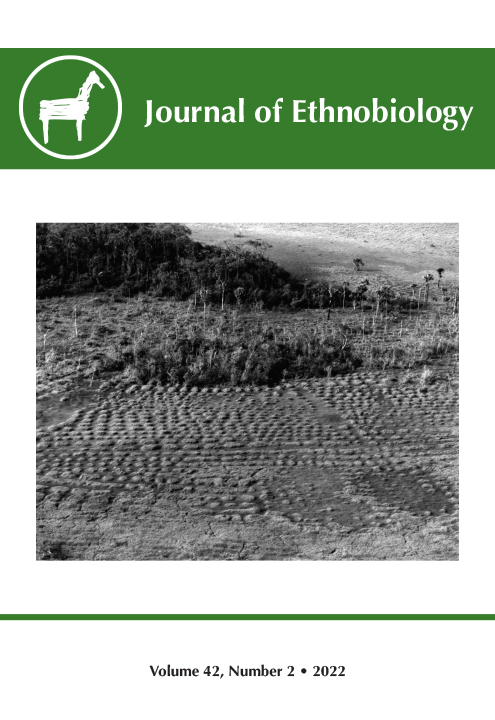 NEW ISSUE OUT NOW!
2022 Volume # 42(2)
Special Issue: Tropical Agriculture: Past and Present. Guest Edited by Lydie Dussol and Stéphan Rostain
Click here for full, downloadable access
TABLE OF CONTENTS
Tropical Agriculture, Past and Present: Cross-Cutting Approaches to Global Challenges
Lydie Dussol and Stéphen Rostain
Fields and People at Río Bec (Mexico): A Study in Progress (2019-2022) of Settlement Agriculture in the Classic Maya Lowlands
Eva Lemonnier and Charlotte Arnauld
Ancient Agriculture on Lava Flows: Using LiDAR and Soil Science to Reassess Pre-Hispanic Farming on Malpaís Landforms in West Mexico
Antoine Dorison
Thinking Outside the Continent and outside the Box: Cross-Continental Comparative Studies Can Enrich Studies of Pre-Columbian Rasied-Field Agriculture
Doyle McKey, Leonor Rodrigues, Javier Ruiz-Pérez, Rumsaïs Blatrix, and Stépen Rostain
Local Knowledge of the Interactions Between Agrobiodiversity and Soil: A Fertile Substrate for Adapting to Changes in the Soil in Madagascar?
Juliette Mariel, Vincent Freycon, Josoa Randriamalala, Verohanitra Rafidison, and Vanesse Labeyrie
Semi-Domesticated Crops Have Unique Functional Roles in Agroecosystems: Perennial Beans (Phaseolus dumosus and P. coccineus) and Landscape Ethnoecology in the Colombian Andes
Jonathan Locqueville, Vanesse Labeyrie, Doyle McKey, Olga Lucia Sanabria, and Sophie Caillon
Digging Deep: Place-Based Variation in Late Pre-Contact Mā'ohi Agricultural Systems, Society Islands
Jennifer G. Kahn and Dana Lepofsky
Traditional Agriculture and Food Sovereignty: Quilombola Knowledge and Management of Food Crops
Maiara Cristina Gonçalves, Fernanda Ribeiro da Silva, Daniele Cantelli, Maria Rita dos Santos, Paulo Volnei Aguiar, Eliseu Santos Pereira, and Natalia Hanazaki