Current Issue - Sweets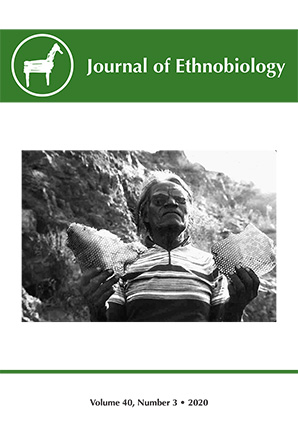 NEW ISSUE OUT NOW!
Special Issue: Sweet Ethnobiology
2020 Volume 40, Number 3
Guest Edited by Jeffrey Wall and Irene Teixidor-Toneu

For a limited time, all papers in this issue can be viewed online. Click an article title below to view the PDF online.
Click here for full, downloadable access.
TABLE OF CONTENTS
SWEETNESS AND LOSS: AN URGENT CALL FOR AFFILIATIVE MODES OF LIVING
Jeffery Wall, Irene Teixidor-toneu, and Amots Dafni
SWEETNESS BEYOND DESSERTS: THE CULTURAL, SYMBOLIC, AND BOTANICAL HISTORY OF ANGELICA (Angelica archangelica) IN THE NORDIC REGION
Irene Teixidor-Toneu, Karoline Kjerud, and Anneleen Kool
"THAT WAS OUR CANDY!": SWEET FODOS IN INDIGENOUS PEOPLES' TRADITIONAL DIETS IN NORTHWESTERN NORTH AMERICA
Nancy J. Turner
INDIGENOUS USE OF LERPS IN AUSTRALIA: SO MUCH MORE THAN A SWEET TREAT
Renate Faast, Philip A. Clarke, Gary S. Taylor, Renée L. Salagaras, and Philip Weinstein
WHAT HAPPENED TO SERI SWEETS? DIETARY TRANSITION THROUGH CULINARY ACCULTURATION
Nemer E. Narchi, Cathy M. Marlett, and Guillermo Hernádez-Santana
PERSISTENCE OF THE SALTY-SWEET NIPAH SUGAR IN THE POPULAR FOODWAYS OF BRUNEI DARUSSALAM
F. Merlin Franco and Nurzahidah Bakar
THE ORIGINS OF MAYA STINGLESS BEEKEEPING
Elizabeth H. Paris, Veronica Briseño Castrejon, Debra S. Walker, and Carlos Peraza Lope
Become a member of the Society of Ethnobiology and get free access to the Journal of Ethnobiology — the premier journal exploring the relationship of people to their biological worlds.

Most Read Articles Most Recently Cited Articles

MORE ARTICLES and BOOK REVIEWS are available at Ethnobiology Letters
Submissions
Manuscripts should be submitted through our Online Journal Systems portal at https://journalofethnobiology.org
All submissions will undergo an assessment for suitability and may be rejected if journal standards are not met. See our author guidelines for more details.
Authors who face constraints on internet access may email the editors directly at editor@ethnobiology.org