Small Things Forgotten: Artifacts of Fishing in the Petén Lakes Region, Guatemala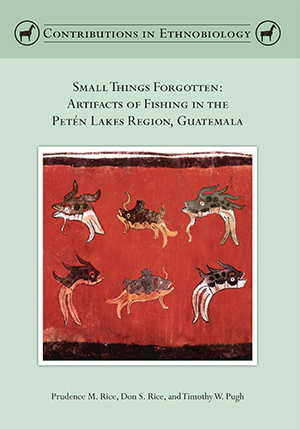 Available in electronic or print versions.
Print USD$11.59* Buy now
When you click on the "Buy now" link above, you will be directed to Amazon.com.
Electronic: FREE download: PDF (3.1 MB)
*All proceeds go directly to the Society of Ethnobiology to support future publications.
Small pieces of notched pottery at lowland Maya archaeological sites served as sinkers or weights (pesas) for fishing nets and lines. More than 1400 of these artifacts recovered from six sites in the central Petén lakes region dated to the Preclassic, Classic, and Postclassic/ Contact periods. Thirteen variables of the sinkers were analyzed, including provenience, dimensions, pottery type, and shape, with comparisons among sites and individual structures within sites—including locations of probable decomposed fishing nets. The weights of these artifacts declined dramatically between Preclassic and Classic times, and then less abruptly in the Postclassic, when they began to exhibit signs of standardization: a smaller range of dimensions and use of specially formed pellets. The decline in weight suggests capture of smaller fish, and may reveal changes in water quality, fishing strategies, or "fishing down the food web."
Don S. and Prudence M. Rice earned their doctoral degrees in anthropology at Pennsylvania State University. Don subsequently taught at the University of Chicago and the University of Virginia, whereas Pru taught at the University of Florida. In 1991 they joined the faculty of Southern Illinois University Carbondale. Both accepted various administrative posts there, Don ending his career as interim provost and Pru ending hers as associate vice chancellor for research. They retired from SIUC in 2011. Together and singly, they directed archaeological field and lab projects in the Petén lakes region since the 1970s, with a brief detour to Moquegua, Peru, in the 1980s.
Timothy W. Pugh earned his PhD degree in anthropology at SIUC. Since writing his dissertation on the site of Zacpetén in Lake Salpetén, he has directed field archaeological projects at Tayasal and Nixtun-Ch'ich' in the western Lake Petén Itzá basin. He is currently professor of anthropology at Queens College, City University of New York.