Secwepemc People and Plants: Research Papers in Shuswap Ethnobotany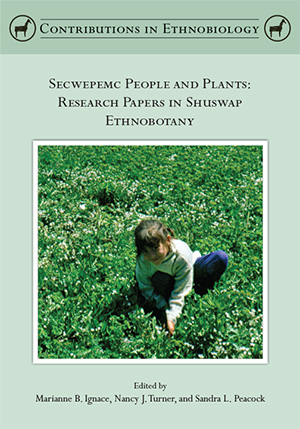 Available in electronic or print versions.
Print USD$85.75* Buy now
When you click on the "Buy now" link above, you will be directed to Amazon.com.
Electronic: FREE download: PDF (47.4 MB)
*All proceeds go directly to the Society of Ethnobiology to support future publications.
Abstract: This volume represents a culmination of collaborative research on Secwepemc (Shuswap) ethnobotany and ethno-ecology based on more than twenty years of research that has engaged Secwepemc elders, community members and a group of indigenous and non-indigenous academic researchers, supported by the Shuswap Nation Tribal Council and other local organizations in the Secwepemc Nation. The joint research and writing by knowledgeable Secwepemc elders and plant specialists, working together with academic researchers comprises multiple interdisciplinary approaches that range from ethnobotany, ethnopharmacology, nutrition, environmental science, to archaeology and linguistic anthropology. Together, they have enabled a detailed understanding of the practices and knowledge systems surrounding the past and present relationships of the Secwepemc people with the plant world as part of the wider relationship with their homeland and its life forms. This volume of specific research contributions, together with a Secwepemc Ethnobotany to be published separately, will highlight the critical importance of plants and environments for Secwepemc health, well-being and cultural identity. Moreover, this work can serve as a model for other interdisciplinary collaborative community based research projects, and we are proud to be able to present our findings through this new Society of Ethnobiology venue.