Secwepemc People and Plants: Research Papers in Shuswap Ethnobotany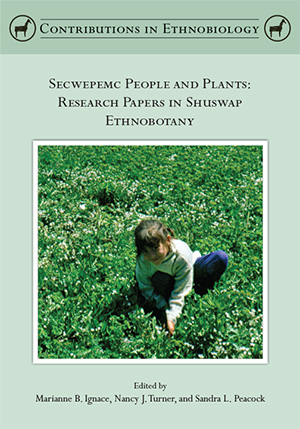 Available in electronic or print versions.
Join the Society and receive member discounts.
Print $85.75* Add to cart
When you click on the "Add to cart" link above, you will be directed to our CreateSpace.com page. You will be required to create a CreateSpace account to complete your order.
Members LOG IN to access discounts
Electronic: FREE download
Print: 30% discount with member access code
Non-Members
Electronic (PDF): Purchase the entire volume or individual chapters (see below)
Print: 10% discount with this code X87FQH86
*All proceeds go directly to the Society of Ethnobiology to support future publications.
Abstract: This volume represents a culmination of collaborative research on Secwepemc (Shuswap) ethnobotany and ethno-ecology based on more than twenty years of research that has engaged Secwepemc elders, community members and a group of indigenous and non-indigenous academic researchers, supported by the Shuswap Nation Tribal Council and other local organizations in the Secwepemc Nation. The joint research and writing by knowledgeable Secwepemc elders and plant specialists, working together with academic researchers comprises multiple interdisciplinary approaches that range from ethnobotany, ethnopharmacology, nutrition, environmental science, to archaeology and linguistic anthropology. Together, they have enabled a detailed understanding of the practices and knowledge systems surrounding the past and present relationships of the Secwepemc people with the plant world as part of the wider relationship with their homeland and its life forms. This volume of specific research contributions, together with a Secwepemc Ethnobotany to be published separately, will highlight the critical importance of plants and environments for Secwepemc health, well-being and cultural identity. Moreover, this work can serve as a model for other interdisciplinary collaborative community based research projects, and we are proud to be able to present our findings through this new Society of Ethnobiology venue.
File Downloads
Price (USD)

Secwepemc People and Plants: Research Papers in Shuswap Ethnobotany (entire volume)
Edited by Marianne B. Ignace, Nancy J. Turner, and Sandra L. Peacock.
Downloadable PDF file, 472 pp. with colour images (47.4 MB).

$15.00

1. Introduction to the Volume
by Nancy J. Turner, Marianne B. Ignace, and Sandra L. Peacock
PDF file: 3.4 MB

$7.00

2. Re tsúwet.s-kucw ne Secwepemcúl̓ecw: Secwepemc Resource Use and Sense of Place
by Ronald E. Ignace and Marianne B. Ignace
PDF file: 7.0 MB

$7.00

3. Archaeological Approaches to Long-term Secwepemc Plant Use in the Interior Plateau, British Columbia
by George P. Nicholas, Nancy Jules Bonneau, and Leisl Westfall
PDF file: 10.2 MB

$7.00

4. Linking the Archaeology and Ethnobotany: An Interpretation of Ancient Plant Remains from Stk'emlupsemc Traditional Territory
by Michèle Wollstonecroft and Gladys Baptiste
PDF file: 4.5 MB

$7.00

5. Re Secwépemc Re Syecwmenúl̓ecwems: Secwepemc Stewardship of Land and Resources
by Sandra L. Peacock, Marianne B. Ignace, and Nancy J. Turner
PDF file: 5.4 MB

$7.00

6. Nutrients in Selected Secwepemc Traditional Food Species
by Harriet V. Kuhnlein, Dawn Loewen, Sandra L. Peacock, Donna Leggee, and Nancy J. Turner
PDF file: 446 KB

$7.00

7. Yellow Glacier Lily (Erythronium grandiflorum): An Important Root Vegetable for the Secwepemc and Neighbouring Peoples of the Northwest Interior Plateau
by Dawn C. Loewen, Nancy J. Turner, with Mary Thomas
PDF file: 2.6 MB

$7.00

8. The Ethnolichenology of Wila (Bryoria fremontii): An Important Edible Lichen of Secwepemc Country and Neighboring Territories
by Stuart Crawford
PDF file: 1.2 MB

$7.00

9. The Importance of Secwepemc Cultural Knowledge in Understanding the Antimicrobial Chemistry of Balsamroot (Balsamorhiza sagittata)
by Kelly Bannister, with Mary Thomas
PDF file: 2.0 MB

$7.00

10. "Everything Is Deteriorating": Environmental and Cultural Loss in Secwepemc Territory
by Mary Thomas, Nancy J. Turner, and Ann Garibaldi
PDF file: 3.1 MB

$7.00

11. Coyote, Grouse and Trees: Secwepemc Lessons about Ethnobiological Knowledge
by Marianne B. Ignace, Nancy J. Turner, and Ronald E. Ignace
PDF file: 2.3 MB

$7.00

12. Re tmicw te skukwstéls es tuwitentels: Secwepemc Traditional Ecological Knowledge and Wisdom Now and in the Future
by Marianne B. Ignace, Ronald E. Ignace, and Nancy J. Turner
PDF file: 2.0 MB

$7.00

13. Conclusions
by Marianne B. Ignace, Nancy J. Turner, and Sandra L. Peacock
PDF file: 2.0 MB

$7.00