Explorations in Ethnobiology: The Legacy of Amadeo Rea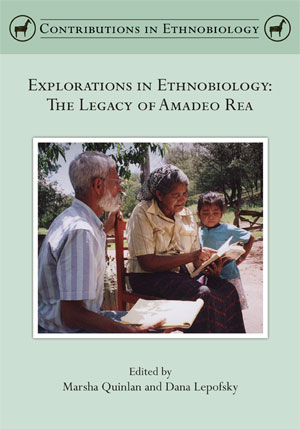 Available in electronic or print versions.
Join the Society and receive member discounts.
Print $56.95* Add to cart
When you click on the "Add to cart" link above, you will be directed to our CreateSpace.com page. You will be required to create a CreateSpace account to complete your order.
Members LOG IN to access discounts
Electronic: FREE download:
Print: 30% discount with member access code
Non-Members
Electronic: Purchase individual chapters (see below)
Print: 10% discount with this code X87FQH86
*All proceeds go directly to the Society of Ethnobiology to support future publications.
The Society of Ethnobiology is pleased to announce the publication of Explorations in Ethnobiology: The Legacy of Amadeo Rea, edited by Marsha Quinlan and Dana Lepofsky. This collection of papers, compiled in honor of ethnobiologist Amadeo Rea, is the first in our new on-line and print-on-demand series, Contributions in Ethnobiology. The volume chapters are authored by some of today's leaders in ethnobiology and cover much of the breadth of the discipline, including ethnobotany, ethnozoology, and ethnolinguistics, from the distant past to the immediate present.
File Downloads
Chapter Title
Price (USD)
Explorations in Ethnobiology: The Legacy of Amadeo Rea (entire volume)

Edited by Marsha Quinlan and Dana Lepofsky
Downloadable PDF file, 310 pp. with colour images (26.5 MB).

$15.00

Preface to Explorations in Ethnobiology: The Legacy of Amadeo Rea

by Dana Lepofsky and Marsha Quinlan. Includes front and back cover images, table of contents, and Contributors. PDF file 1.1 MB.

$7.00

1. Diversity and its Destruction: Comments on the Chapters

by Amadeo Rea. PDF file: 705 KB.

$7.00

2. Amadeo M. Rea and Ethnobiology in Arizona: Biography of Influences and Early Contributions of a Pioneering Ethnobiologist

by R. Roy Johnson and Kenneth J. Kingsley. PDF file 1 MB.

$7.00

3. Ten Principles of Ethnobiology: An Interview with Amadeo Rea

by Dana Lepofsky and Kevin Feeney. PDF file: 750 KB.

$7.00

4. What Shapes Cognition? Traditional Sciences and Modern International Science

by E.N. Anderson. PDF file: 1.1 MB

$7.00

5. Pre-Columbian Agaves: Living Plants Linking an Ancient Past in Arizona

by Wendy C. Hodgson. PDF file: 2.5 MB

$7.00

6. The Paleobiolinguistics of Domesticated Squash (Cucurbita spp.)

by Cecil H. Brown, Eike Luedeling, Søren Wichmann, and Patience Epps. PDF file: 2.3 MB.

$7.00

7. The Wild, the Domesticated, and the Coyote-Tainted: The Trickster and the Tricked in Hunter-Gatherer versus Farmer Folklore

by Gary Paul Nabhan. PDF file: 598 KB.

$7.00

8. "Dog" as Life-Form

by Eugene S. Hunn. PDF file: 852 KB

$7.00

9. The Kasaga'yu: An Ethno-Ornithology of the Cattail-Eater Northern Paiute People of Western Nevada

by Catherine S. Fowler. PDF file: 1.5 MB.

$7.00

10. People of the Sky: Birds in Chumash Culture

by Jan Timbrook and John R. Johnson. PDF file: 1.1 MB.

$7.00

11. Upland Salado Resource Use

by Charmion R. McKusick. PDF file: 1 MB.

$7.00

12. Amadeo M. Rea and the Case of a Vanishing Owl

by Steven W. Carothers, Dorothy A. House, and R. Roy Johnson. PDF file: 729 KB.

$7.00

13. "To Feed all the People": Lucille Clifton's Fall Feasts for the Gitga'at Community of Hartley Bay, British Columbia

by Nancy Turner, Colleen Robinson, Gideon Robinson, and Belle Eaton. PDF file: 1.6 MB.

$7.00