Ethnozoology of Egede's "Most Dreadful Monster," the Foundational Sea Serpent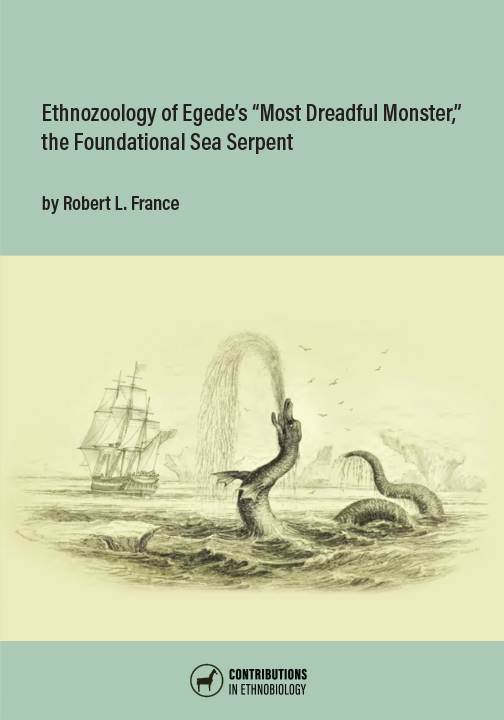 Available in electronic or print versions.
Print: USD$37.50* Buy now
When you click on the "Buy now" link above, you will be directed to Amazon.com.
Electronic (PDF download):
• Members: LOG IN to access your FREE copy.
• Non-Members: USD$15.00 PDF download (see below)
*All proceeds go directly to the Society of Ethnobiology to support future publications.
Abstract: The sighting by the well-known missionaries and natural historians, Poul and Hans Egede, of an unrecognized marine animal off the coast of Greenland in 1734, which in their writings would be variably referred to as a "terribly big" or "very horrible" sea creature, or translated as a "most dreadful monster," is generally regarded as initiating the modern cultural phenomenon of sea serpents. The present ethnozoology study undertakes a detailed examination of this sighting which has become one of the most famous and influential encounters with an unidentified marine object (UMO) construed as being a sea monster. The approach taken is multidisciplinary, involving aspects of environmental history and historical ecology, contemporary zoology and conservation biology, as well as folklore and cultural history. Following an introduction to the early modern belief in Nordic sea monsters, a diachronic review is presented of thirty-six interpretations that have been advanced over three centuries by natural historians, natural scientists, cryptozoologists, biologists, and popular writers to explain the Egede UMO. Secondly, a new and careful parsing of the words and examination of the illustration of the encounter recorded by the eyewitnesses suggests two novel interpretations. In common with recent reevaluations of other sea serpent sightings, a case is made that the Egede UMO provides further evidence for the non-lethal entanglement of marine animals in pre-plastic fishing gear or hunting equipment. Furthermore, a new candidate for the animal behind the Egede UMO is suggested to be the basking shark. This is a species with a long history of being misconstrued as a sea monster, as reflected by its scientific name Cetorhinnus maximus, or "pointy-nosed monster of giant size." Thirdly, the pervasive cultural influence of the Egede encounter through time is reviewed, including two famous paleontological gaffes, later sea monster sightings, modern cryptozoology beliefs, and further examples of UMO's "afterlife" in contemporary imagination. The Afterword considers the possibility of precedents for the Egede UMO, as well as conjectures as to the fate of the entangled animal, before commenting on enduring mysteries of the sea. Finally, an appendix identifies locations where the further ethnozoological exploration of sea monsters can be undertaken.
Robert L. France is an environmental scholar who has taught at the universities of Harvard, McGill, and Ca' Foscari, and is currently a professor at Dalhousie University. He is the author or editor of twenty books and two hundred journal papers on a wide range of environmental subjects in both the physical and social sciences, which have been cited ten thousand times in the professional literature. Dr. France has undertaken conservation biology research on organisms from bacteria to whales, from the High Arctic to the tropics, and is a leading authority on many aspects of aquatic zoology, including marine ecology, ethnozoology, and environmental history.
Contents
Introduction
Part I: History and Historiography

Chapter 1. The Eyewitnesses, Their Times, and the Canonical Account in its Various Forms

The Setting: Monster-Infested Waters of the Early to Late Modern North
The Eyewitnesses: The Egedes
The Account in Text and Illustrations

Chapter 2. Chronology and Historiography of Eighteenth to Twenty-First-Century Interpretations

Indigenous Oral Tradition and European Folklore
Paramount Expositions
Supplementary Expositions
Historical Interpretations Synthesized

Part II: Historicity and New Interpretations

Chapter 3. Agreements and Disagreements with Previous Interpretations, and Proposal of a New Environmental Illation

Disagreements
Agreements
New Environmental Interpretation: Non-Lethal Entanglement
The Long Tail: Penis or Peril?

Chapter 4. Speculations Concerning the Identity of the Egedes' Entangled UMO

Identity Candidate—Whale
Identity Candidate—Basking Shark

Part III: Natural and Cultural History

Chapter 5. Continuing Legacy of the Egede Creature in Paleontology and Popular Culture

Influence of the Egede Creature's "Tail" on Nineteenth-Century Paleontology
Legacy of the Egede Creature in Sea Monster Lore and Cryptozoology
Artistic Imagination Inspired by the Egede Creature's Breaching Leap

Afterword
Appendix 1. Here [Again] are Dragons: Locations for Further Ethnozoological Explorations

1. Natural History Museum, London, England
2. Harvard Museum Natural History, Cambridge, Massachusetts
3. Canadian Fossil Discovery Centre, Morden, Manitoba
4. Archeological Museum, Thessaloniki, Greece
5. Crystal Palace, Sydenham, London, England
6. Wookey Hole, Somerset, England
7. Bayerisches Staatsbibliothek, Munich, Germany
8. One's Own Living Room

References Cited
Price (USD)

Ethnozoology of Egede's "Most Dreadful Monster," the Foundational Sea Serpent
by Robert L. France
Downloadable PDF file, 192 pp. with colour images (17.7 MB).

USD$15.00