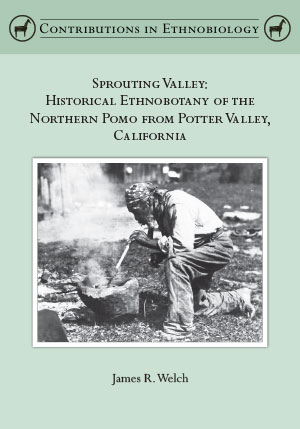 Available in electronic or print versions.
Join the Society and receive member discounts.
Print $24.95* Add to cart
When you click on the "Add to cart" link above, you will be directed to our CreateSpace.com page. You will be required to create a CreateSpace account to complete your order.
Members LOG IN to access discounts
Electronic: FREE download:
Print: 30% discount with member access code
Non-Members
Electronic: Purchase PDF download (see below)
Print: 10% discount with this code X87FQH86
*All proceeds go directly to the Society of Ethnobiology to support future publications.
In the mid-nineteenth century the indigenous Potter Valley Pomo resided in large sedentary villages in Potter Valley, California, and travelled seasonally throughout an extensive territory in what are now Mendocino and Lake Counties. Beginning in 1890 what would become nearly a half century of ethnographic research among members of this community, homeopathic doctor and amateur anthropologist John W. Hudson witnessed the a­ftermath of their dislocation and dispersal from the valley following the arrival of non-indigenous settlers. Although never published, his field notes contained an unparalleled dataset on plant use by a single local indigenous community in California. In this richly illustrated monograph the author presents and interprets this historical ethnobotanical information in order to provide new insights into Potter Valley Pomo society and its relationship to the Northern California landscape.
James R. Welch is assistant professor of human ecology and health at the National School of Public Health, Rio de Janeiro, and co-editor of Ethnobiology Letters journal. His anthropological research focuses on the interface between environment, culture, and health among indigenous peoples in Brazil and California.
File Downloads
Book Title
Price (USD)
Sprouting Valley: Historical Ethnobotany of the Northern Pomo from Potter Valley, California

Author: James R. Welch. Downloadable PDF file with colour images (7.4 MB).

$15.00