Tags:
By Natalie Mueller, Forage! co-editor
Our recent joint meetings with the Society for Economic Botany were a great success! Please add your favorite moments in the comments below, we would love to hear from you.
Participants loved the beautiful location at the University of Wisconsin's Memorial Union, where we all found plenty of time to relax with colleagues over brats and beers.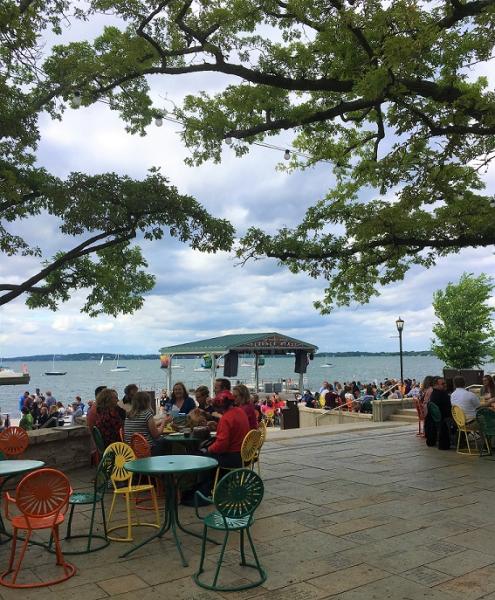 Conference particpants relaxing on the terrace overlooking Lake Mendota, Photo: Kali Wade
For many of us, it was an oppurtunity to catch up with old friends, meet new ones -- and of course, work on collaborative research and teaching projects.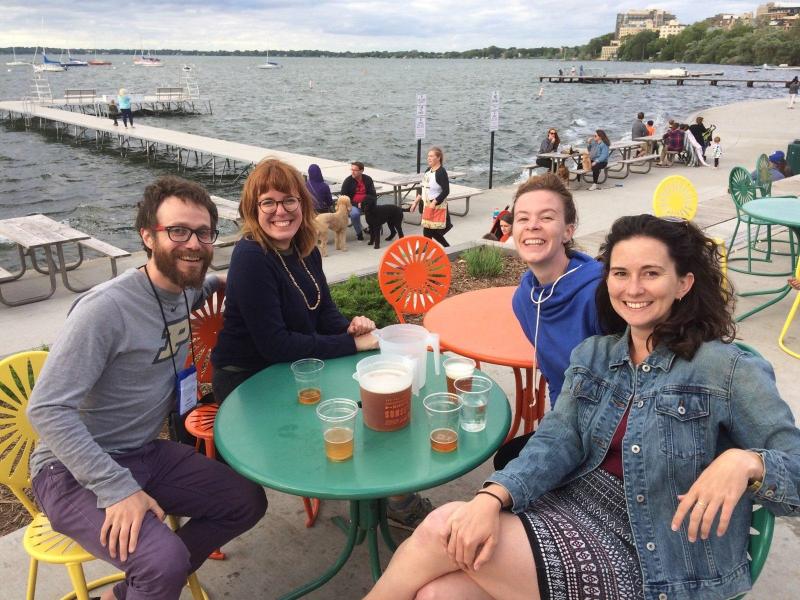 Ethnobiology Letters editor Andrew Flachs, SEB Richard Evan Shultes Research Fellow Ashley Glenn, Washington Unveristy paleoethnobotanist Kelsey Nordine, and Forage! editor Natalie Mueller enjoying some local brews. Photo: Ashley Glenn.
During the course of the meetings, we honored Gary Nabhan and Gail Wagner with Distinguished Economic Botanist and Distinguished Ethnobioloigst awards, which they recieved with wonderful reflections on lifetimes spent teaching and learning. We also gave out several research fellowships, travel awards, and other honors. Some of our awardees will be featured in blog posts later this summer -- stay tuned!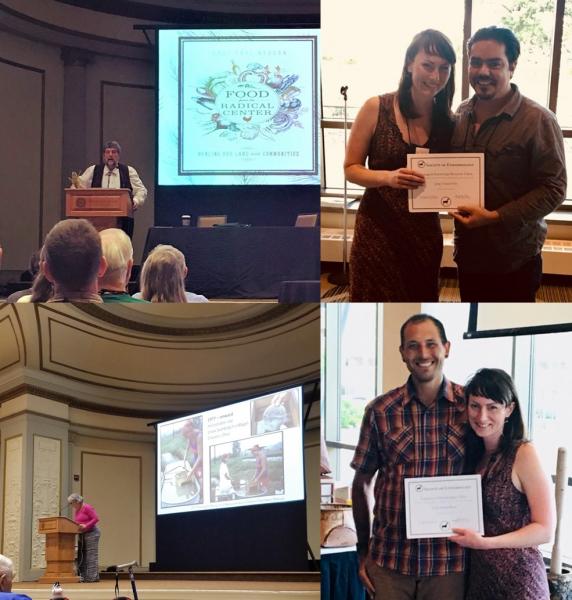 Clockwise from top left: Distinguished Economic Botany Award winner Gary Nabhan; SoE awards coordinater Ashley Blazina with Jorge Garcia Pola, winner of the Ecological Knowledge fellowship; and with Kaya DeerInWater, winner of the Indigenous Ethnbiologist Research Fellowship; Gail Wagner recieving the Distinguished Ethnobiologist Award. Photos: Kali Wade, Denise Glover, Natalie Mueller.
It was a special honor for me to host a retirement party for my mentor, Gayle Fritz, with the help of many of her current and former students. Gayle served as President of SEB and handed over the gavel to Sunshine Brosi at this years' meetings. She also retired from Washington University in St. Louis this spring. We celebrated Gayle's long career and many contributions with party at Great Dane Brewpub and a custom cake from Fosdal Bakery featuring lost crops!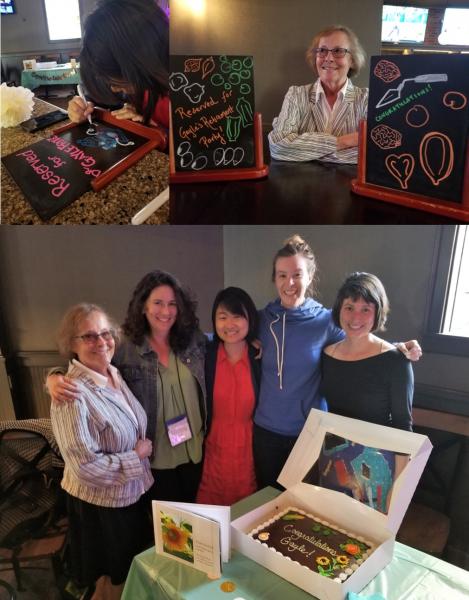 Celebrating SEB President Gayle Fritz's illustrious career with plenty of seed pic decorations. Top left: Mana Hayashi Tang contibuting her artistic talents; Top right: The guest of honor; Bottom: Gayle with her students Natalie Mueller, Kelsey Nordine, Mana Hayashi Tang, and Grace Ward. Photo: Natalie Mueller
The fantastic organizers of this year's meetings planned several great field trips and workshops. These were another oppurtunity to meet new people and to connect with local experts, from herbalists to artists. I learned how to make a dandelion burdock vinegar infusion to aid digestion from Community Pharmacy herbalist Jennifer Helmer, and spent a wonderful two hours creating seed art with Chicago sculptor Sharon Bladholm.

Top to bottom: Jennifer Helmer of Community Pharmacy leading a workshop on weeds; Best Poster Award Winner Daniel Williams making his dandelion burdock vinegar; making seed art with Sharon Bladholm.
Finally, what many of us considered the highlight of the conference: Sean Sherman A.K.A the Sioux Chef prepared an amazing dinner for our awards banquet. If you've never heard of the Sioux Chef, where have you been?! Sean works to revitalize Indigenous cusine and foodways through his famous Mineapolis restaurant and various outreach projects. Using only pre-Columbian ingrediants, including many wild foods, Sean prepares foods that are grounded in specific places and Indigenous worldviews and histories -- usually his native Northern Great Plains, but in this case with special dishes celebrating Great Lakes traditions. From wild race cakes to buffalo brisket, this feast had it all. Sean also spoke to us about his new initiative, the non-profit North American Traditional Indigenous Food Systems (NATIFS), that will be focused on research, education, and access surrounding Indigenous foodways. Thanks for an unforgettable experience to Sean Sherman and his team!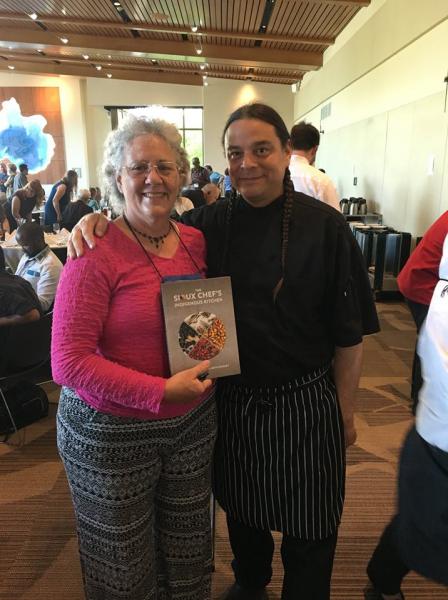 Gail Wagner and Chef Sean Sherman at the Awards Banquet. Photo: Denise Glover.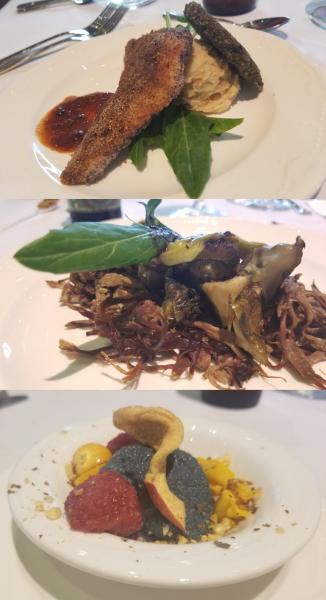 Three of the courses prepared by Sean Sherman, the Sioux Chef, featuring white fish and wild rice, staples of Great Lakes Indigenous cuisine, bison and sunchoke, and blue corn pudding with berries and ground cherries. Photos: Natalie Mueller.
I also met with our new team of Forage! contributing editors and learned that our sister society also has a fantastic student-led blog, which you can read here. I am so excited to welcome these new voices to the blog this year. Follow us on Twitter and Instagram @ethnnobioforage, or like our Faccebook page Forage! Blog of the Society of Ethnobiology!