Journal of Ethnobiology Volume 37, Number 4 • 2017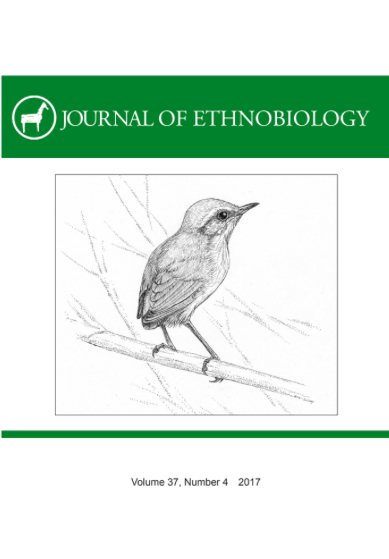 2017 Volume 37, Number 4
Special Section:
Birds II
I. SPECIAL SECTION: Birds II, Edited by Nicole Sault

FOR THE BIRDS, PART II: HOW BIRDS SHOW US THE ADVANTAGES OF AN ETHNOBIOLOGICAL PERSPECTIVE
Nicole Sault
BIRDS AS SEERS: AN ETHNO-ORNITHOLOGICAL APPROACH TO OMENS AND PROGNOSTICATION AMONG THE CH'ORTI' MAYA OF GUATEMALA
Kerry Hull and Rob Fergus
BIRDS IN MAYA IMAGINATION: A HISTORICAL ETHNO-ORNITHOLOGY
E. N. Anderson
THE HUMAN FACTOR: ECOLOGICAL SALIENCE IN ORNITHOLOGY AND ETHNO-ORNITHOLOGY
Andrew G. Gosler
RARÁMURI BIRD KNOWLEDGE AND ENVIRONMENTAL CHANGE IN THE SIERRA TARAHUMARA, CHIHUAHUA, MEXICO
Andrew M. Miller and Edward Doolittle
WHAT A LITTLE BIRD TELLS US ABOUT SYMBOLIC THOUGHT: THE RUSSETT-CAPPED STUBTAIL (TESIA EVERETTI) IN NAGE AUGURY, MYTH, AND METAPHOR
Gary Forth
INTENTIONAL FIRE-SPREADING BY "FIRE HAWK" RAPTORS IN NORTHERN AUSTRALIA
Mark Bonta, Robert Gosford, Dick Eussen, Nathan Ferguson, Erana Loveless, and Maxwell Witwer

ii. Regular submissions

LOCAL PERSPECTIVES ON CONFLICTS WITH WILDLIFE AND THEIR MANAGEMENT IN THE SIERRA GORDA BIOSPHERE RESERVE, MEXICO
Inés Arroyo-Quiroz, Raúl García-Barrios, Arturo Argueta-Villamar, Robert J Smith, and Ramón Pérez Gil Salcido
WILD MEDICINAL SPECIES TRADED IN THE BALSAS BASIN, MEXICO: RISK ANALYSIS AND RECOMMENDATIONS FOR THEIR CONSERVATION
Leonardo Beltran-Rodriguez, Fernando Manzo-Ramos, Belinda Maldonado-Almanza, Andrea Martínez-Ballesté, and José Blancas
TREE DIVERSITY AND USES IN COFFEE PLANTATIONS OF A MIXE COMMUNITY IN OAXACA, MEXICO
Bia'ni Madsa' Juárez-López, Noé Velázquez-Rosas, and Citalli López-Binnqüist
GENDER INFLUENCES IN THE PERCEPTION AND USE OF THE LANDSCAPE IN A RURAL COMMUNITY OF GERMAN IMMIGRANT DESCENDANTS IN BRAZIL
Renata Andressa Poderoso, Nivaldo Peroni, and Natalia Hanazaki

Become a member of the Society of Ethnobiology and get free access to the Journal of Ethnobiology — the premier journal exploring the relationship of people to their biological worlds.

MORE ARTICLES and BOOK REVIEWS are available at Ethnobiology Letters
Submissions
Manuscripts should be submitted through our Online Journal Systems portal at http://ojs.ethnobiology.org
All submissions will undergo an assessment for suitability and may be rejected if journal standards are not met. See our author guidelines for more details.
Authors who face constraints on internet access may email the editors directly at editor@ethnobiology.org