Journal of Ethnobiology Volume 38, Number 1 • 2018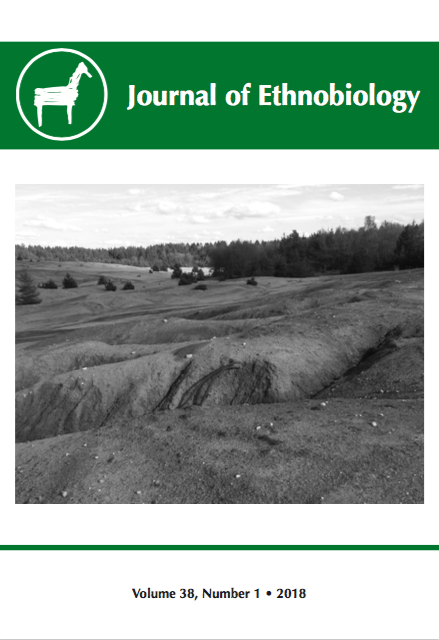 2018 Volume 38, Number 1
Special Section:
Feral Dynamics
Guest Editors:
Anna Tsing & Nils Bubant
I. SPECIAL SECTION: Feral dynamics, Edited by Anna tsing and nils bubandt

FERAL DYNAMICS OF POST-INDUSTRIAL RUIN: AN INTRODUCTION
Nils Bubandt and Anna Tsing
INDUSTRIOUS LANDSCAPING: THE MAKING AND MANAGING OF NATURAL RESOURCES AT SØBY BROWN COAL BEDS
Nathalia Brichet and Frida Hastrup
THE MAKING OF UNSTABLE GROUND: THE ANTHROPOGENIC GEOLOGIES OF SØBY, DENMARK
Mathilde Højrup and Heather Anne Swanson
USING NATURAL HISTORY IN THE STUDY OF INDUSTRIAL RUINS
Elaine Gan and Anna Tsing, with Daniel Sullivan
TRANSPORTATION INFRASTRUCTURES AND ARTHROPOD DISPERSAL: ARE HARVESTMEN (OPILIONES) HITCHIKING TO NORTHERN EUROPE?
Stine Vestbo, Søren Toft, Heather Anne Swanson, Jens M. Olesen, and Peter Funch
LANDSCAPES OF ANTICIPATION OF THE OTHER: ETHNO-ETHOLOGY IN A DEER HUNTING LANDSCAPE
Natalie Forssman and Meredith Root-Bernstein
WASTELAND ECOLOGIES: UNDOMESTICATION AND MULTISPECIES GAINS ON AN ANTHROPOCENE DUMPING GROUND
Colin Hoag, Filippo Bertoni, and Nils Bubandt

ii. Regular submissions

CLASSIFICATION AS NARRATIVE: A RENEWED PERSPECTIVE ON A LONGSTANDING TOPIC IN ETHNOBIOLOGY
Denise M. Glover
URBAN ALLOTMENT GARDENS IN POLAND: IMPLICATIONS FOR BOTANICAL AND LANDSCAPE DIVERSITY
Piotr Klepacki and Monika Kujawska
WHAT WOMEN KNOW THAT MEN DO NOT KNOW ABOUT CHESTNUT TREES IN TURKEY: A METHOD OF HEARING MUTED KNOWLEDGE
Jeffrey R. Wall, Elif Basak Aksoy, Nesibe Köse, Taner Okan, and Coskun Köse

Become a member of the Society of Ethnobiology and get free access to the Journal of Ethnobiology — the premier journal exploring the relationship of people to their biological worlds.

MORE ARTICLES and BOOK REVIEWS are available at Ethnobiology Letters
Submissions
Manuscripts should be submitted through our Online Journal Systems portal at http://ojs.ethnobiology.org
All submissions will undergo an assessment for suitability and may be rejected if journal standards are not met. See our author guidelines for more details.
Authors who face constraints on internet access may email the editors directly at editor@ethnobiology.org