Current Issue - Ethnobiology of Bats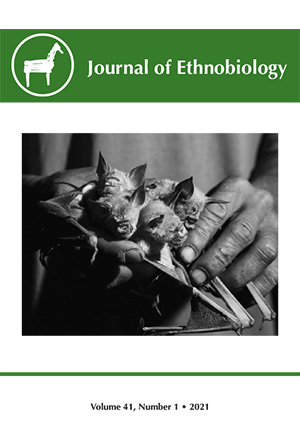 NEW SPECIAL ISSUE OUT NOW!
2021 Volume # 41 (1): Ethnobiology of Bats
Guest edited by Ricardo Rocha, Adrià López-Baucells, and
Álvaro Fernández-Llamazares
Click here for full, downloadable access.
TABLE OF CONTENTS
ETHNOBIOLOGY OF BATS: EXPLORING HUMAN-BAT INTER-RELATIONSHIPS IN A RAPIDLY CHANGING WORLD
Ricardo Rocha, Adriá López-Baucells, and Álvaro Fernández-Llamazares
BANE OR BLESSING? REVIEWING CULTURAL VALUES OF BATS ACROSS THE ASIA-PACIFIC REGION
Mary-Ruth Low, Wong Zhi Hoong, Zhiyuan Shen, Baheerathan Murugavel, Nikki Mariner, Lisa Marie Paguntalan, Krizler Tanalgo, Moe Moe Aung, Sheherazade, Lawrence Alan Bansa, Tuanjit Sritongchuay, Jason Hideki Preble, and Sheema Abdul Aziz
ATTITUDES TOWARDS BATS IN SWEDISH HISTORY
Johan Eklöf and Jens Rydell
HUMAN-BAT INTERACTIONS IN RURAL SOUTHWESTERN MADAGASCAR THROUGH A BIOCULTRAL LENS
Ricardo Rocha, Álvaro Fernández-Llamazares, Adrià López-Baucells, Santatra F. M. Andriamitandrina, Zo Emmanuel Andriatafika, Eric Marcel Temba, Laura Torrent, Daniel Burgas, and Mar Cabeza
LISTING TO BATS: NAMIBIAN PASTORALISTS' PERSPECTIVES, STORIES, AND EXPERIENCES
Theresa M. Laverty, Tara L. Teel, A. Archie Gawusab, and Joel Berger
ATTITUDES TOWARDS AND RELATIONSHIPS WITH CAVE-ROOSTING BATS IN NORTHWEST CAMBODIA
Hannah G. Shapiro, Adam S. Willcox, David R. Ader, and Emma V. Willcox
AMBIGUOUS BIRDS: IDEAS ABOUT BATS ON FLORES ISLAND AND ELSEWHERE
Gregory Forth

Become a member of the Society of Ethnobiology and get free access to the Journal of Ethnobiology — the premier journal exploring the relationship of people to their biological worlds.