Three Questions with Erica Oberndorfer
Three Questions with Erica Oberndorfer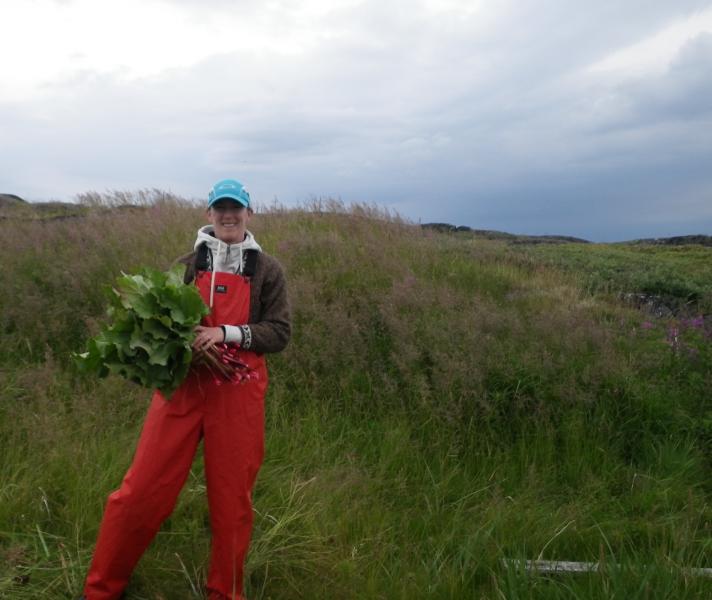 Dr. Oberndorfer collecting rhubarb for Aunt Annie Evans at Turnaviks (photo by Todd Broomfield)
Good teachers are all around us, says ethnobotanist and 2017 Barbara Lawrence Award winner Erica Oberndorfer.
Dr. Erica Oberndorfer is the 2017 Labrador Institute Postdoctoral fellow working on the development of the Makkovik Plant Book, a community supported work funded by the Tradition & Transition partnership between Memorial University and Nunatsiavut Government. Her research also traces the genealogy of rhubarb in Labrador to better understand how this beloved plant is intertwined with the travels and connections of families. Dr. Oberndorfer's Barbara Lawrence Award winning paper, "Forgotten Fires? A People's History of Fire in Labrador", traced the historical and contemporary role of human-made fire in Labrador to better understand how people shape northern landscapes.
How did you begin studying human-plant relationships?
Certain plants were very much part of our family life when I was growing up. My brother and I learned about the ecological and social consequences of picking too many fiddleheads in what could be called a parental ethnobiological lesson: first, there will be no fern fronds in the woods; second, you will be made to unendingly eat fiddleheads from the freezer all winter. Through my MSc, plant ecology became the focus of my academic and professional life, but I felt as though I could be doing a better job of learning about plants from all teachers. I suppose that in learning directly from people about plants through my PhD, it was time to once again remember that plants are an integral part of everyday life for many people, in the ways they make life possible, in the ways they connect us to our homes, and connect people to each other.
Why is it important for us to understand the role of human-made fire in the northern landscape?
We somewhat unthinkingly talk about northern regions as remote, as untouched wilderness, as "the middle of nowhere". These regions aren't remote to the people who live there – they are the epicentre of everything, of all that is important and meaningful. What visitors call a field site is what residents call home. So I think it is important to learn about the many ways Indigenous peoples have shaped and continue to shape their homes—including through the use of fire—to be conscious of who and what we ignore when we use expressions like untouched wilderness and "middle of nowhere".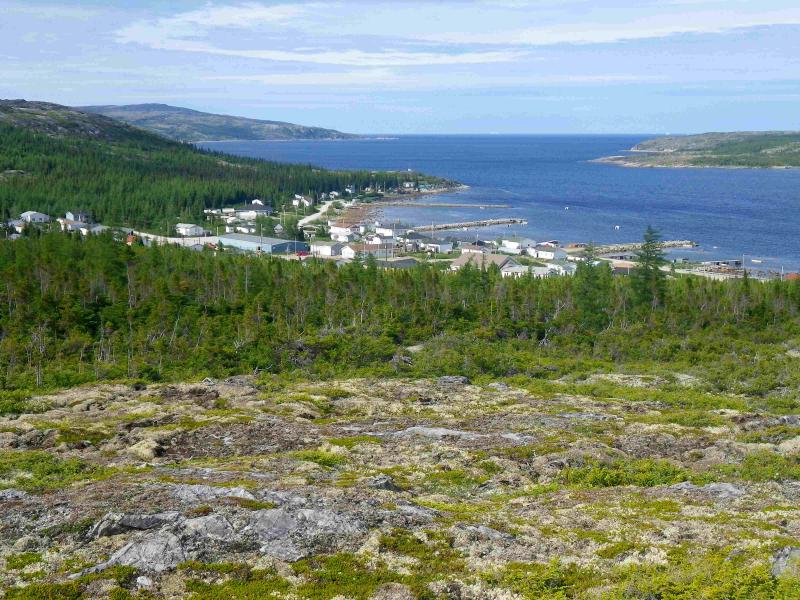 Inuit Community of Makkovik taken from the community boardwalk (Photo by Erica Oberndorfer)
What's the most important lesson you've learned as an ethnobiologist?
I've learned that I get hung up on answering questions like this, as if I can provide some kind of illuminating answer! It's easy to feel overwhelmed with finding answers and underwhelmed with one's own knowledge. A good day outdoors helps put everything in perspective. That's where all the answers are, anyway
Dr. Oberndorfer can be reached at: ecoberndorfer@gmail.com. To learn more about her work on the Makkovik book project, visit https://www.facebook.com/Makkovik-People-and-Plants-390594181000667/. Readers can also learn more about Makkovik here and Nunatsiavut here.