Society for Applied Anthropology
Save the Date!
The Annual General Membership Meeting will be held via Zoom on Friday, March 25, 2022 at 4:45pm Mountain Time, followed by the Distinguished Ethnobiologist Award to Dr. Dana Lepofsky, also via Zoom, on Friday, March 25, 2022 at 5:30pm Mountain Time. You may also watch Dr. Lepofsky's talk live on YouTube here: https://youtu.be/du2Tb7xtCX8
You do NOT need to be a conference registrant to participate. Use this link to join the Zoom (please add it to your calendars now!).
https://suu-edu.zoom.us/j/94606089457?pwd=ckpUNWpvNnpsL2d2NXRZUzV0M0NRUT09
Meeting ID: 946 0608 9457
Passcode: 541904
Those who are participating in the SfAA/SoE joint conference will want to check out the highlights of SoE events in the infographic below. We will be meeting up in person and hosting virtual sessions!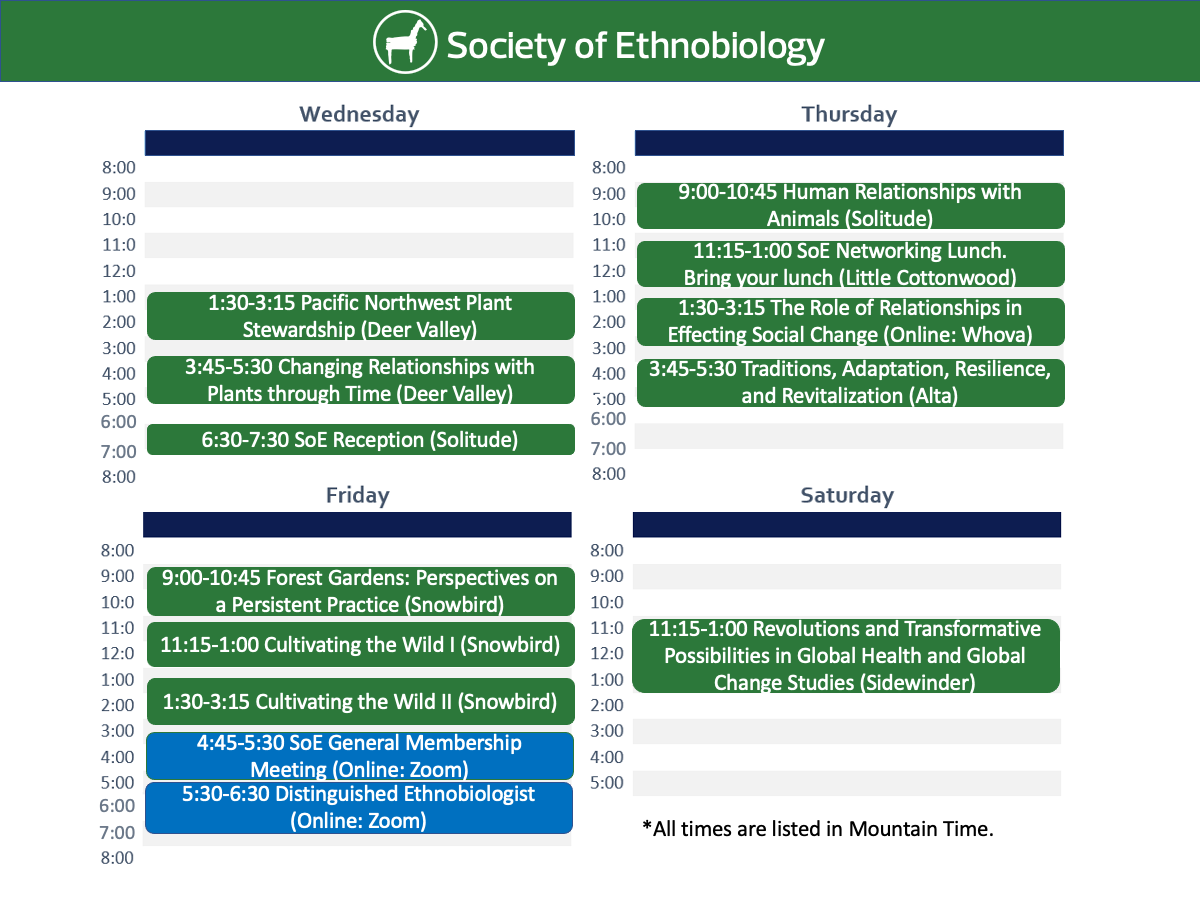 Society for Applied Anthropology Joint Conference: The Revolutionary Potential of the Social Sciences: Transforming Possibilities March 22–26, 2022
CALL FOR PAPERS open until October 15, 2021
The Society of Ethnobiology has partnered with the Society for Applied Anthropology, Culture and Agriculture, Political Ecology Society, Society for Medical Anthropology and others to put on a hybrid conference (in-person and virtual options).
SoE Member Rates:
| | By Oct. 15, 2021 | After Oct. 15, 2021 |
| --- | --- | --- |
| Non-student | $170 | $195 |
| Student | $80 | $90 |
**2022 Annual Meeting of the Society for Applied Anthropology in Salt Lake City, Utah, March 22-26**
The complete preregistration and abstract submission information is now on the SfAA website, and we are ready to accept submissions for the Salt Lake City meeting. To begin the preregistration process, please go to:
https://www.appliedanthro.org/annual-meeting/annual-meeting-registration

The abstract submission deadline is October 15. Please note that you must first register in order to complete the abstract submission form at:
https://www.appliedanthro.org/annual-meeting/abstract-information

The theme for the 2022 annual meeting is The Revolutionary Potential of the Social Sciences: Transforming Possibilities. The program chair, James McDonald, hopes the 2022 annual meeting will be an important forum for participants "to challenge ourselves to gain enduring and holistic understandings that advance research and application." Please review the full theme statement at:
https://www.appliedanthro.org/annual-meeting

Workshops and Tours
The Program Committee is developing a package of tours and workshops to complement the intellectual program. We will publicize tours and workshops shortly after the abstract submission deadline. If you have an idea for a workshop, please go to the website and complete the workshop application form at:
https://www.appliedanthro.org/annual-meeting/abstract-information
Note that you must register first to complete the workshop application form.

Student Awards and Travel Support to the SfAA Annual Meeting
Society of Ethnobiology has specific funding opportunities for our members to participate, details here.
SfAA funds several student travel awards, each worth $500, for travel to the annual meeting in Salt Lake City. You must submit a paper or poster abstract for the annual meeting to be eligible for a travel award.
In addition to the travel awards, cash prizes ranging from $100 to $500 are given to students presenting posters at the meeting. Three prizes are awarded for the best overall posters, AND three for the Valene Smith Award, for best posters on tourism and heritage.
The annual Peter K. New Student Prize competition provides a cash prize of $3,000 for first place as well as a Baccarat crystal trophy. Second place receives $1,500 and third $750. Each Peter K. New Student Prize winner receives an additional $350 to defray transportation and lodging costs at the annual meeting.
For information about student travel awards, the Peter K. New Student Prize, and the Valene Smith and Student Poster Awards, please go to:
https://www.appliedanthro.org/about/awards-prizes/peter-kong-ming-new-award
https://www.appliedanthro.org/annual-meeting/awards-prizes

Prioritizing Safety
We are committed to the health and safety of those who choose to come to Salt Lake City. The meeting hotel—the Sheraton Salt Lake City—reassures us of its comprehensive protocols for hosting safe conferences and protecting its guests (https://whattoexpect.marriott.com/slcsi). And the state of Utah is responsibly responding to and managing Covid-19 risks. Current information on Covid-19, vaccination rates, and masking policies for Utah can be found at https://coronavirus.utah.gov/. We are monitoring the Covid situation very closely and will keep our members and conference participants updated.
SfAA Annual Meeting Health and Safety Plan
As we plan for a third annual meeting in the context of COVID-19, SfAA leadership would like to assure members and meeting participants that our goal is to move forward with an intellectually and professionally enriching meeting in a responsible manner and with attention to health and safety.
We are planning an in-person meeting with an online component. As we learn how to live and work safely through this pandemic, we are eager to gather in the same place and take advantage of those formal and informal opportunities to meet, network with, and catch up with colleagues from around the world! In Salt Lake City, you will be able to enjoy the vibrant music and arts scene and take advantage of the city's proximity to national parks, monuments, and forests. We will use the Whova platform, so individuals may decide whether they would like to travel and take part in the in-person proceedings or attend remotely and engage in our synchronous, live-streamed events and asynchronously available digital content. We hope this option makes the annual meeting accessible to a wide range of applied social scientists who may not be able to travel, while providing the in-person experience that so many are looking forward to.
Given that the pandemic continues and we do not know exactly what March 2022 will bring, we wanted to outline the basic principles guiding the SfAA's decision making about a health and safety plan for our in-person proceedings. First, SfAA leadership will monitor the COVID-19 situation as the annual meeting approaches and will communicate any decisions in a timely manner. Second, we are committed to mitigating risk through reasonable, evidence-based measures. We will follow CDC guidelines for making this gathering as safe as possible; this may mean implementing requirements that go above and beyond those required by the hotel or by the state and local governments.
Portals are open for registration and submission of sessions, papers, posters and workshops. Please go to: https://www.appliedanthro.org/annual-meeting/annual-meeting-registration.
We hope to see you in Salt Lake City (March 22-26, 2022) and we will keep you updated on conference planning.
Jim McDonald
Program Chair
Elaine Bennett
Associate Program Chair
Don Stull
Annual Meeting and Awards Coordinator
Michael Paolisso
President

Online Participation
Because not everyone will be able to travel to Salt Lake City in 2022 we are offering an online component for the annual meeting. If you attend remotely, you can access prerecorded sessions, selected onsite live-streaming sessions, synchronous and asynchronous opportunities for virtual engagement and networking, and a digital content library. Remote participation will be accessible through Whova, our meeting platform. The Society for Applied Anthropology prides itself on being international, and we want to engage even more with colleagues around the world. The significant online component of the 2022 annual meeting offers exciting opportunities for increased global participation.
We look forward to seeing you in Salt Lake City!