Current Issue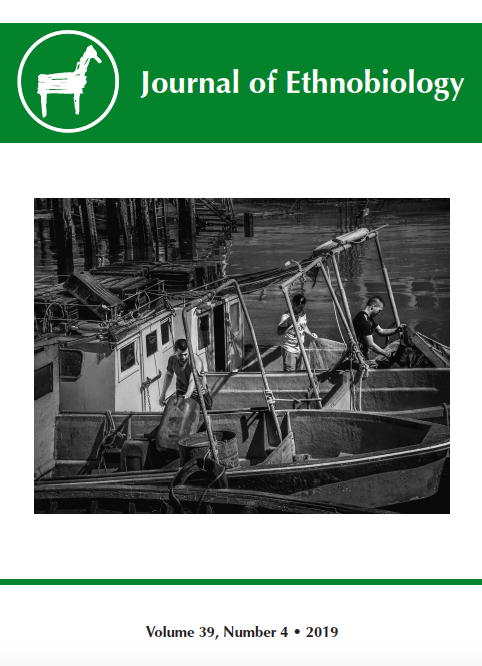 NEW ISSUE OUT NOW!
2019 Volume 39, Number 4
TABLE OF CONTENTS
FAMILY POULTRY SYSTEMS ON THE SOUTHERN PACIFIC COAST OF GUATEMALA: GENDER, LIVELIHOODS, AND FOOD SECURITY
Amy Snively-Martinez and Marsha B. Quinlan
INCORPORATING CHENOPODIUM BERLANDIERI INTO A SEASONAL SUBSISTENCE PATTERN: IMPLICATIONS OF BIOLOGICAL TRAITS FOR CULTURAL CHOICES
Sara Halwas and Anne Worley
AGRODIVERSITY OF HYLOCEREUS UNDATUS IN MAYA HOMELANDS: MANAGEMENT AND GENETIC VARIABILITY
Anette Hernández-Andrade, Lea Parra-Gómez, Miriam M. Ferrer, Patricia I. Montañez-Escalante, and Juan Jiminénez-Osornio
EXPERIMENTAL CULTIVATION OF EASTERN NORTH AMERICA'S LOST CROPS: INSIGHTS INTO AGRICULTURAL PRACTICE AND YIELD POTENTIAL
Natalie G. Mueller, Andrea White, and Peter Szilagyi
KNOWLEDGE OF NATIVE EDIBLE PLANTS IN A MONOCULTURE PLANTATION-DOMINATED LANDSCAPE
Santiago A. Parra, Mauricio Folchi, and Javier A. Simonetti
FISHERS' ECOLOGICAL KNOWLEDGE ABOUT MARINE POLLUTION: WHAT CAN FEK CONTRIBUTE TO ECOLOGICAL CONSERVATION STUDIES OF A SOUTHWESTERN ATLANTIC ESTUARY?
Daniel M. Truchet, M. Bélen Noceti, Diana M. Villagrán, Melina M. Orazi, M. Celeste Medrano, and Natalia S. Buzzi
Become a member of the Society of Ethnobiology and get free access to the Journal of Ethnobiology — the premier journal exploring the relationship of people to their biological worlds.

Most Read Articles Most Recently Cited Articles

MORE ARTICLES and BOOK REVIEWS are available at Ethnobiology Letters
Submissions
Manuscripts should be submitted through our Online Journal Systems portal at https://journalofethnobiology.org
All submissions will undergo an assessment for suitability and may be rejected if journal standards are not met. See our author guidelines for more details.
Authors who face constraints on internet access may email the editors directly at editor@ethnobiology.org