Current Issue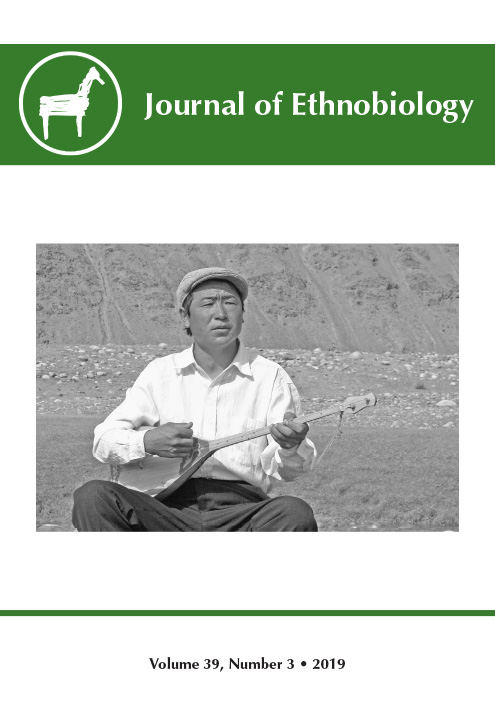 SPECIAL ISSUE: ETHNOBIOLOGY THROUGH SONG
2019 Volume 39, Number 3
Guest edited by Álvaro Fernández-Llamazares & Dana Lepofsky
TABLE OF CONTENTS
ETHNOBIOLOGY THROUGH SONG
Álvaro Fernández-Llamazares and Dana Lepofsky
CENTRAL AUSTRALIAN ABORIGINAL SONGS AND BIOCULTURAL KNOWLEDGE: EVIDENCE FROM WOMEN'S CEREMONIES RELATING TO EDIBLE SEEDS
Georgia Curran, Linda Barwick, Myfany Turpin, Fiona Walsh, Mary Laughren
SONGS, SETTINGS, SOCIALITY: HUMAN AND ECOLOGICAL WELL-BEING IN WESTERN MONGOLIA
Jennifer C. Post
A SONG REMEMBERED IN PLACE: TLINGIT COMPOSER MARY SHEAKLEY (LXOOK) AND HUNA TLINGITS IN GLACIER BAY NATIONAL PARK, ALASKA
Thomas F. Thornton, Mary Rudolph, William Geiger, Amy Starbard
OHUOKHAI: TRANSMITTER OF BIOCULTURAL HERITAGE FOR SAKHA OF NORTHEASTERN SIBERIA
Susan A. Crate
CREATION TO RHYTHM: AN ETHNOGRAPHIC AND ARCHAEOLOGICAL SURVEY OF TURTLE SHELL RATTLES AND SPIRITUALITY IN THE UNITED STATES
Andrew Gillreath-Brown
LIKE A LULLABY: SONG AS HERDING TOOL IN RURAL MONGOLIA
K. G. Hutchins
SING TO LEARN: THE ROLE OF SONGS IN THE TRANSMISSION OF INDIGENOUS KNOWLEDGE AMONGST THE TSIMANE' OF BOLIVIAN AMAZONIA
Victoria Reyes-García and Álvaro Fernández-Llamazares
THE RELATIONAL NATURE OF SONG IN MUSICAL HUMAN-ANIMAL INTERACTIONS IN TR'ONDËK HWËCH'IN TRADITIONAL TERRITORY, YUKON
Tamara Ranspot
Become a member of the Society of Ethnobiology and get free access to the Journal of Ethnobiology — the premier journal exploring the relationship of people to their biological worlds.
MORE ARTICLES and BOOK REVIEWS are available at Ethnobiology Letters
Submissions
Manuscripts should be submitted through our Online Journal Systems portal at https://journalofethnobiology.org
All submissions will undergo an assessment for suitability and may be rejected if journal standards are not met. See our author guidelines for more details.
Authors who face constraints on internet access may email the editors directly at editor@ethnobiology.org