A Massive Muster of Ethnobiologists to be Held in Madison: Why You Should Be There
A Massive Muster of Ethnobiologists to be Held in Madison: Why You Should Be There
Posted on:
Tuesday, January 23, 2018
Whether you're a longtime Society of Ethnobiology (SoE) member or have recently discovered our community, we would like to invite you to attend our annual meeting this summer in beautiful Madison, Wisconsin, June 3-7! When this many ethnobiologists muster, there is sure to be plenty of food eating, medicine making, seed swapping, storytelling, and music making (really, bring your instruments or at least your game face). You don't want to miss it.
Here are 7 great reasons to join us this year:
1. If you've never been to a SoE meeting before, this is an especially good year to start. We are looking forward to a rare joint meeting with the Society for Economic Botany (SEB). SEB is dedicated to the study of past, present, and future relationships between plants and people. With members from all 50 states and 64 countries and a well-respected quarterly international journal, SEB is a great network for any ethnobiologist to tap into. Many SoE members are also members of SEB, so this year we won't have to choose between two great societies. This year's meeting will be bigger and more international than usual, providing great opportunities to broaden your horizons and build your networks. Those of you who study animals, mushrooms, or microorganisms: no need to worry! Our fantastic team of conference organizers will not let you be swamped by botanists. There will be organized sessions and workshops for a range of interests, including pedagogy and activism, as always.
2. Travel awards are available to subsidize your costs. Many ethnobiologists are privileged to learn from Indigenous communities around the world. The society wants to help Indigenous ethnobiologists travel to the meetings and share their knowledge and research. The Indigenous People's Conference travel award application is due January 31. SoE also wants to encourage attendance by students at every level, and we know finding money for conference travel is especially hard for students. The Student's Travel award application is also due on January 31. The winners of both awards will receive a $450 grant, a registration fee waiver, and a year of online membership to the SoE publications.
3. Speaking of encouraging student research, if you're a student doing great things in ethnobiology you should consider submitting your poster or paper for the Barbara Lawrence Award. This contest is open to all current students and anyone who has received their PhD within the last year, and also comes with a monetary award. If you want to be considered, you need to submit your research paper to the committee by February 28.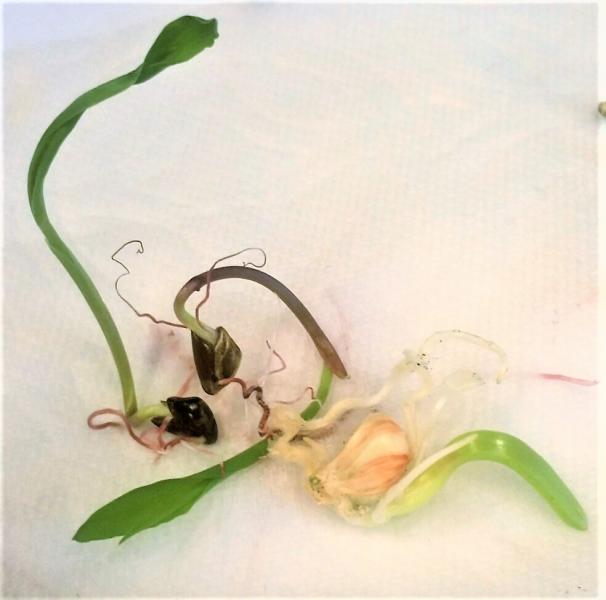 Learning how to do germination and viability testing at a workshop on seed banks taught by Native Seeds/SEARCH in Tuscon, 2016
4. At SoE conferences we don't just sit around listening to presentations (as much as we love them) – there will also be opportunities to get your hands dirty. The organizers have accepted eight great workshop proposals from members. I have learned so much at SoE workshops in the past. I think my favorite was the one on seed banks and libraries by Native Seeds/SEARCH two years ago in Tucson. I'm still using resources from this workshop as I get my own little seed bank off the ground. This year, there will be workshops focused on hands-on learning, such as one on local medicinal botany in which you will actually prepare herbal medicines. There will also be workshops focused on pedagogy. One of the things I like the most about SoE is that members recognize that we can't be good researchers or scientists without also being good teachers, and they make time to talk about teaching at the conference. These workshops are a great opportunity to share teaching strategies and learn from more experienced educators.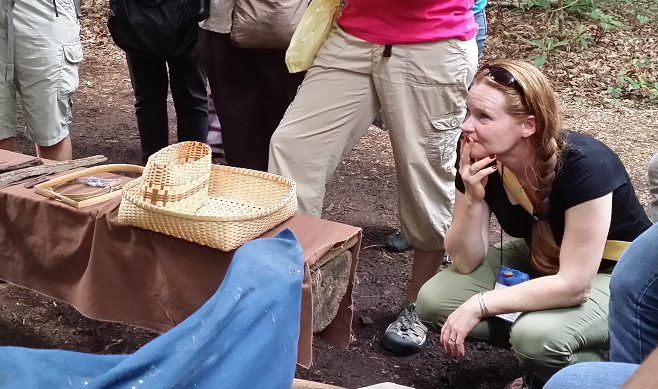 Society member Liz Horton absorbed in a lesson on Cherokee cane basket making during a 2014 field trip.
5. Field trips! Need I say more? I once asked my class at the end of the semester why they signed up, and about two-thirds of them said, "The syllabus said there would be field trips…" We know of at least two great field trips already in the works. Dr. Sissel Shroeder, renowned archaeologist and historical ecologist, will be leading a tour of Aztalan. This is one of the most fascinating sites in eastern North America – a Mississippian town (900-1250 AD) that was also a point of interaction and cultural synergy between Cahokians from Illinois and local people. Was this an outpost where Cahokians exerted control over local trade networks? A frontier town? A fortress, or a place of pilgrimage? You'll have a chance to pick the brains of expert archaeologists on these and other questions at this beautiful site. The second trip is not to be missed by anyone interested in ancient or alternative agriculture. Dr. William Gartner's classic paper on ancient ridged fields in Wisconsin remains one of the only descriptions of pre-Columbian Native American agricultural landscapes in eastern North America. He will be leading a field trip to visit some of these unique sites.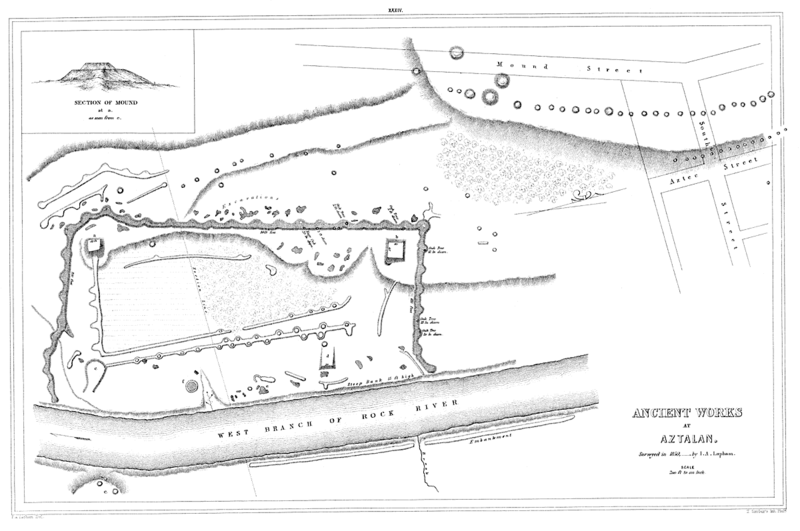 1850s map of the Aztalan site, by I.A. Lapham. Courtesy of the Smithsonian Institution.
6. Which brings me to reason #6 – location! Haven't you always wanted to visit Madison? This year, the conference will be hosted by the University of Wisconsin at Madison, which has a long and illustrious history of ethnobiology research in various departments, including Anthropology, Botany, and Geography. Feel free to stay in one of the lovely hotels located nearby, but if you're looking for an economical experience that also allows you to explore campus, consider booking a dorm room for the low, low price of $47 per night. As always at SoE, our organizers are working to make sure we get a taste of local foods prepared by local chefs at our annual banquet. And though we don't know the details yet, the Ho-Chunk Nation, whose ancestral territory includes Madison, will also be organizing at least one event at the conference to offer their perspective on the conference themes of food security, sovereignty, and traditional knowledge. I've found that unlike many other professional conferences, SoE conferences always manage to teach me a lot about the place that I am visiting and its people. They are able to do this because conference organizers invite participation by the local community outside of academia.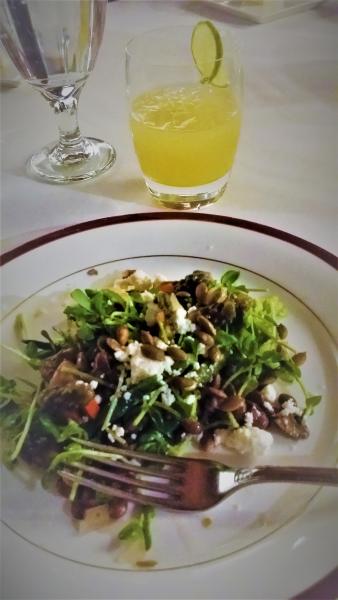 One course of our Sonoran feast featuring local greens and seeds, Tuscon 2016.
7. Whatever your interest or experience in ethnobiology, if you're looking for ways to engage with some of the most important social and environmental problems of our time, this is the society for you and we want you at our meeting. Last year's meeting provided plenty of food for thought, with sessions and workshops that asked tough questions about how to balance scholarship and advocacy and do ethical, community-centered ethnobiology. This year's theme, Food Security, Sovereignty, and Traditional Knowledge, again challenges us to think about our research in terms of the health, political power, intellectual property rights, and cultural survival of communities. Now more than ever, it is important for us to build partnerships between scientific, educational, and community institutions. The connections we make will help us describe and advocate for responsible ways of living in the community of creatures that sustains us.
Registration is open! Please check the website regularly if you would like to present research -- the call for papers and posters will be coming any day now. Hope to see you there!
By N.G. Mueller