The Top 5 Reasons the Society of Ethnobiology Changed Our Graduate School Experiences
The Top 5 Reasons the Society of Ethnobiology Changed Our Graduate School Experiences
Tags:
The Top 5 Reasons the Society of Ethnobiology Changed Our Graduate School Experiences
Words: Chelsey Geralda Armstrong & Alex McAlvay
Grad school is more than just appeasing supervisors and getting a fancy title. It's an avenue for intellectual development and debate at the cutting edge of human thought. It's the chance to meet people who will remain your greatest colleagues and confidants for decades. The time we've spent in our respective departments (Alex—UW-Madison and Chelsey—Western University and Simon Fraser University) have been full of great experiences and wonderful people. But we both agree—our experiences in grad school would not be the same—OK, maybe borderline miserable—if it wasn't for the Society of Ethnobiology (SOE).
With the declining interest of universities to exist by and for academics, and the touch-and-go lifestyle of many grad students—finding lifelong friendships, mentorships and shared ideas and interests with people beyond one's narrow niche is challenging.
So we took a minute to reflect on our experiences in the SOE—why we initially joined, why we've stayed, and why we continue to be active members and yearn for more involvement. We do this to show that there is more to academia than a cubicle and the high echelons of the ivory tower (more like an eggshell apartment with aggressive landlords and coin laundry).
1. It's multi/trans/interdisciplinary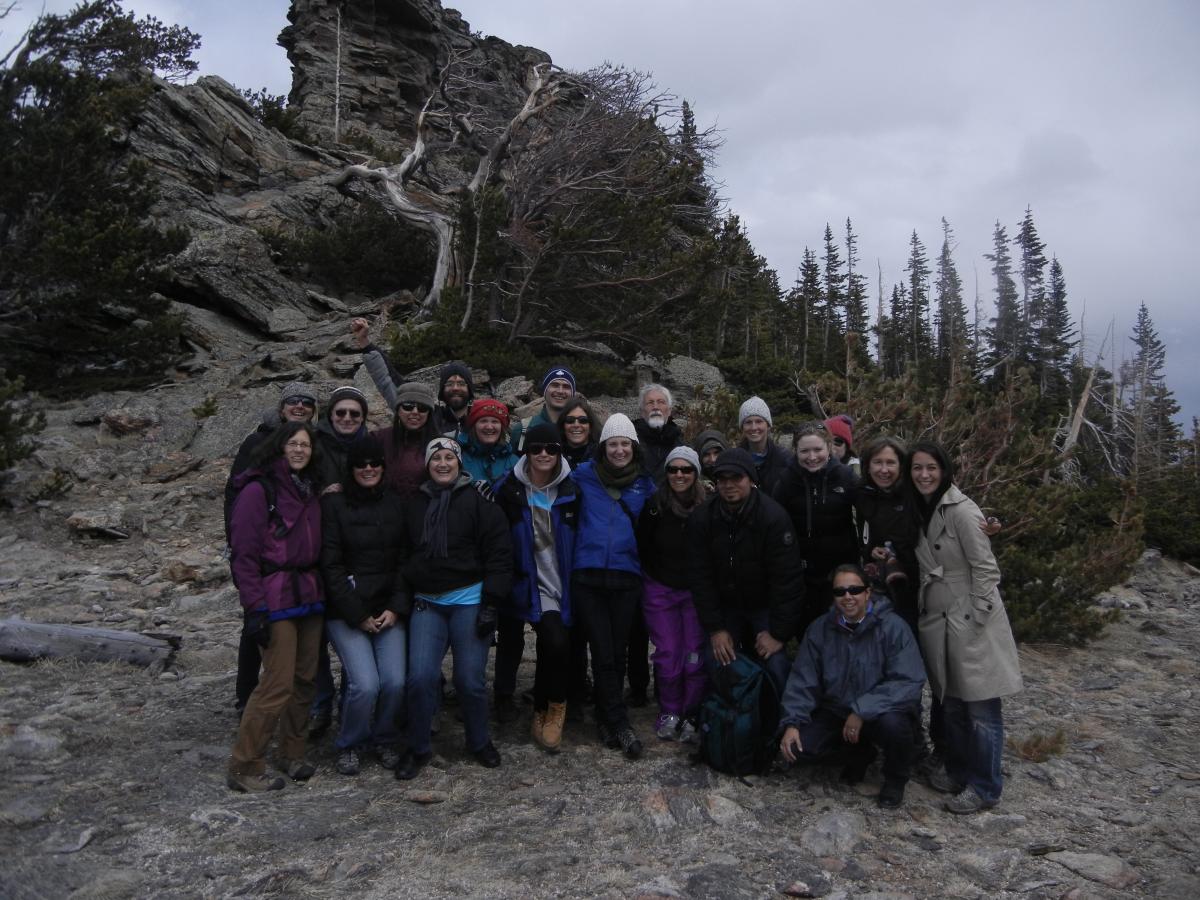 A grip of ethnobiologists from a handful of disciplines exploring Rocky Mountain National Park for the 2012 field trip during our meeting in Denver. Pictured here: a few anthropologists, a couple botanists, two archaeologists, a tribal ethnobotanist, an environmental scientist, who are we missing?
If we had to spend the rest of our days talking only (or even mainly) to archaeologists (Chelsey) or botanists (Alex) we would die. Sure we love archaeology and botany and are glad with the general directions the disciplines are taking. But no, we don't want to see the same stone tool from a different angle or quibble endlessly about taxonomy. The SOE is strikingly diverse and filled with disciplines and their interfaces: Anthropology, Biology, Archaeology, Environmental Science, Linguistics, Computation Sciences, Economics, Ecology, the list goes on. The diversity of presentations is inspiring. A flip through any year's catalogue of abstracts includes research on medicinal plants, ethnoornithology, the domestication of animals, traditional resource management and food sovereignty. It is not uncommon for international collaborations and co-authorships to be forged over lunch. In a world where it's not enough to just talk about interdisciplinarity anymore, the SOE is a place to actually DO interdisciplinarity. We've both opened our eyes to worlds of experiences and research we would have never encountered in our respective departments.
2. It's Cheap.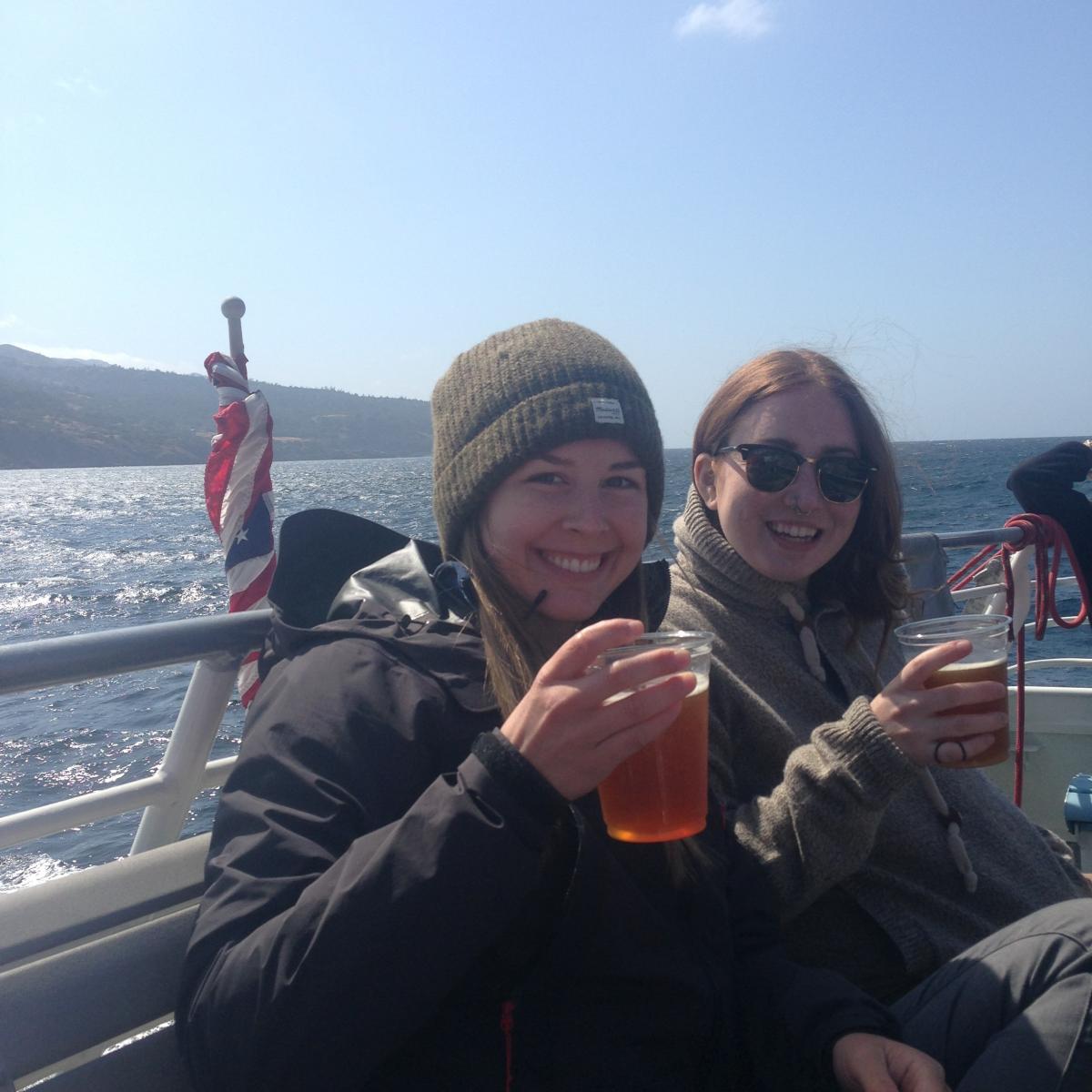 Graduate students Julia Jackley and Ginevra Toniello say "Cheers to cheap!" during the Channel Islands field trip at the recent meeting in Santa Barbara, CA.

Membership is $20—we repeat membership is $20. Compared to the American Anthropological Association ($60-$135), Society for American Archaeology ($70), and Botanical Society of America ($35), the conferences fees are half, sometimes 1/5 of the cost of other closely related conferences. Conference organizers always make a great effort to post cheap hotels near the venue and student listervs for room-shares are active and easy to use. There are 2-3 optional field trips that are a landmark of the annual conference and at least one is very affordable.
3. It's an exceptionally nurturing and non-competitive environment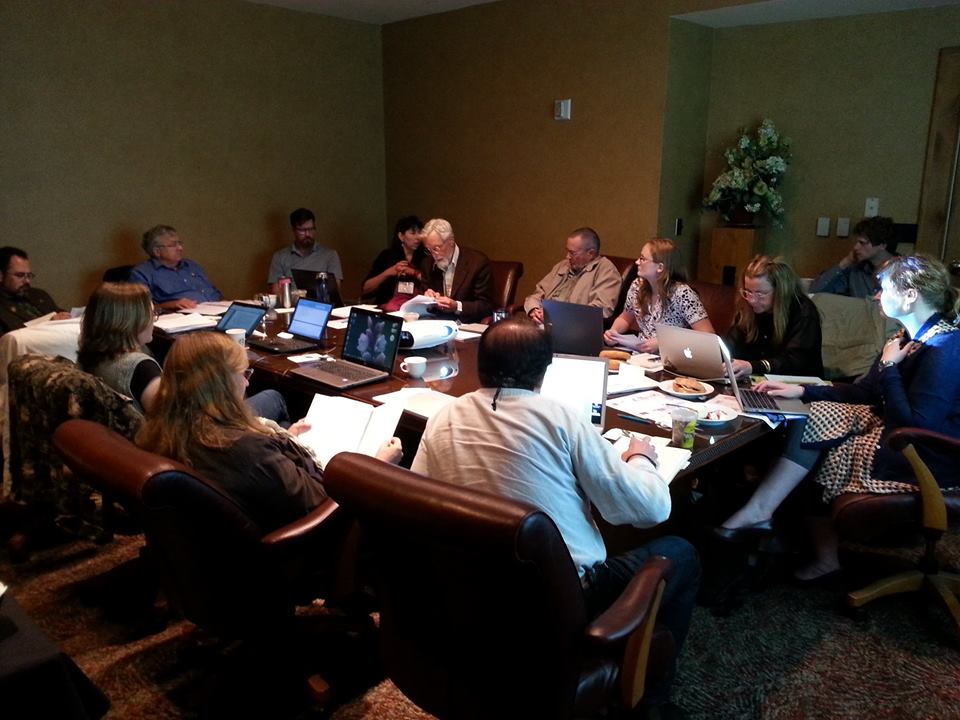 Board members from all backgrounds and ages (3 graduate students serve on the Board of Directors) before the 2014 meeting in Cherokee, North Carolina
A few years ago I (Chelsey) gave my first conference paper in Denton, Texas. I was practically crippled by fear and with 5 minutes left I was barely half way through the talk. Nearing the end of my talk and noticing my "freak out", the panel organizer (and conference organizer at the time) gave me a quick gesture and said "hey, no worries—you've got this." At the end he made time for a question and gave me lots of encouraging words. When I share this story with other graduate students involved in other societies, most tell their own, similar versions that usually end in embarrassment and mild trauma. At the SOE, it's all good. It's mellow. No one is trying to bring you down or is scared their work will get scooped. There are healthy, boisterous debates amongst members but they are always respectful. It's always encouraging. The competitive, top-down and confrontational side of academia that we all find nauseating is practically absent here. Which brings us to the next point…
4. It supports STUDENTS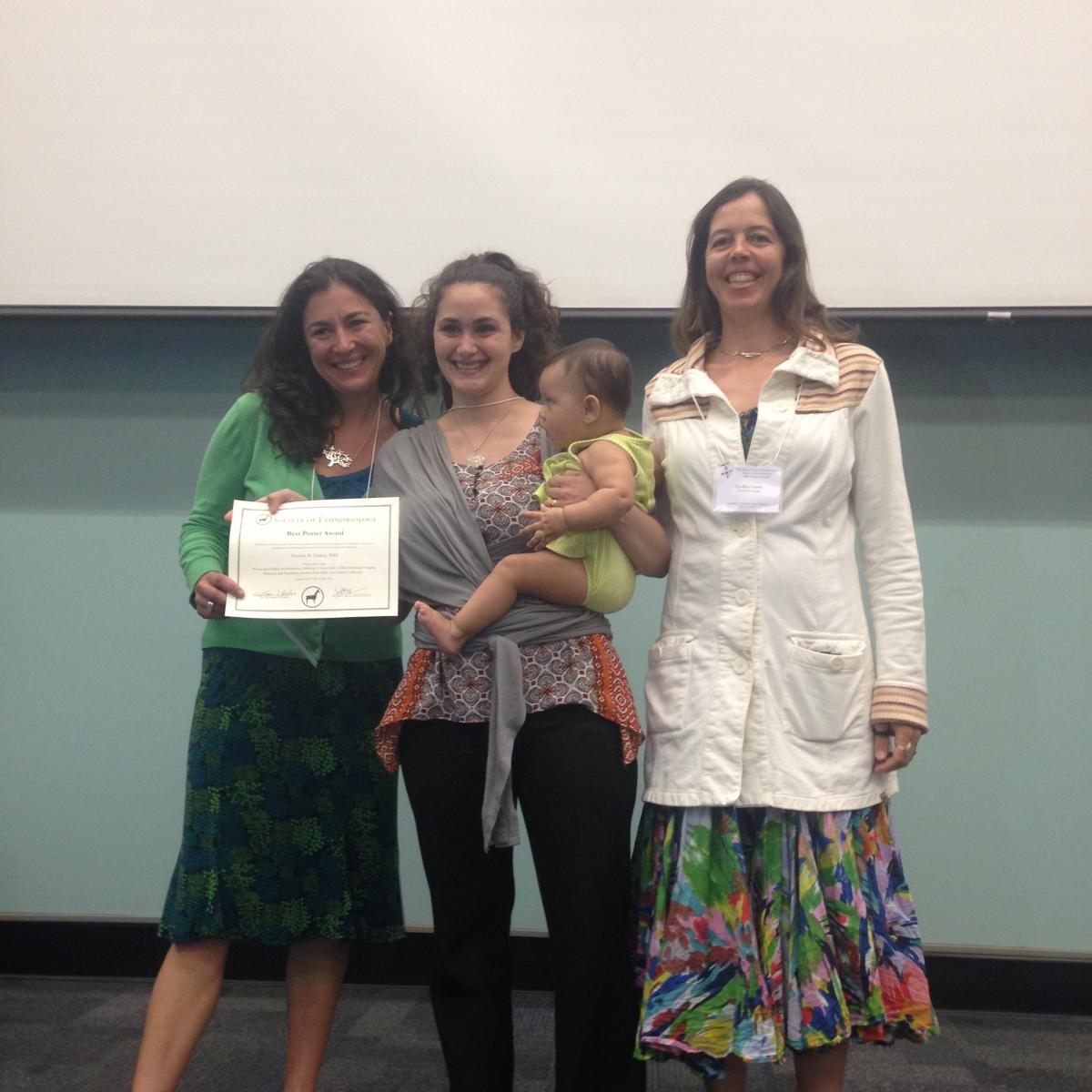 Board Members Daniela Shebitz and Cissy Fowler present the best Poster award to Heather Thakar and her littlie co-author who hung out on her thigh for the whole poster session!
Not sure if you want to give a paper? Don't have all your data yet? The SOE poster session is incredibly well attended and has really blown up in the last few years. The poster award is held in high regard and the level of interaction and feedback you receive (from the people you're probably citing) is remarkable. I (Alex) feel continually grateful to have the Society of Ethnobiology as a resource and community. At my first conference four years ago I felt instantly welcomed and supported by everyone I met. Unlike large, impersonal meetings, I quickly found myself not only encountering, but making close friends with some of the most respected members of the discipline. A number of events and activities are specifically geared toward undergraduates and graduate students, including a lunch with mentors, and evening socials.

5. It's FUN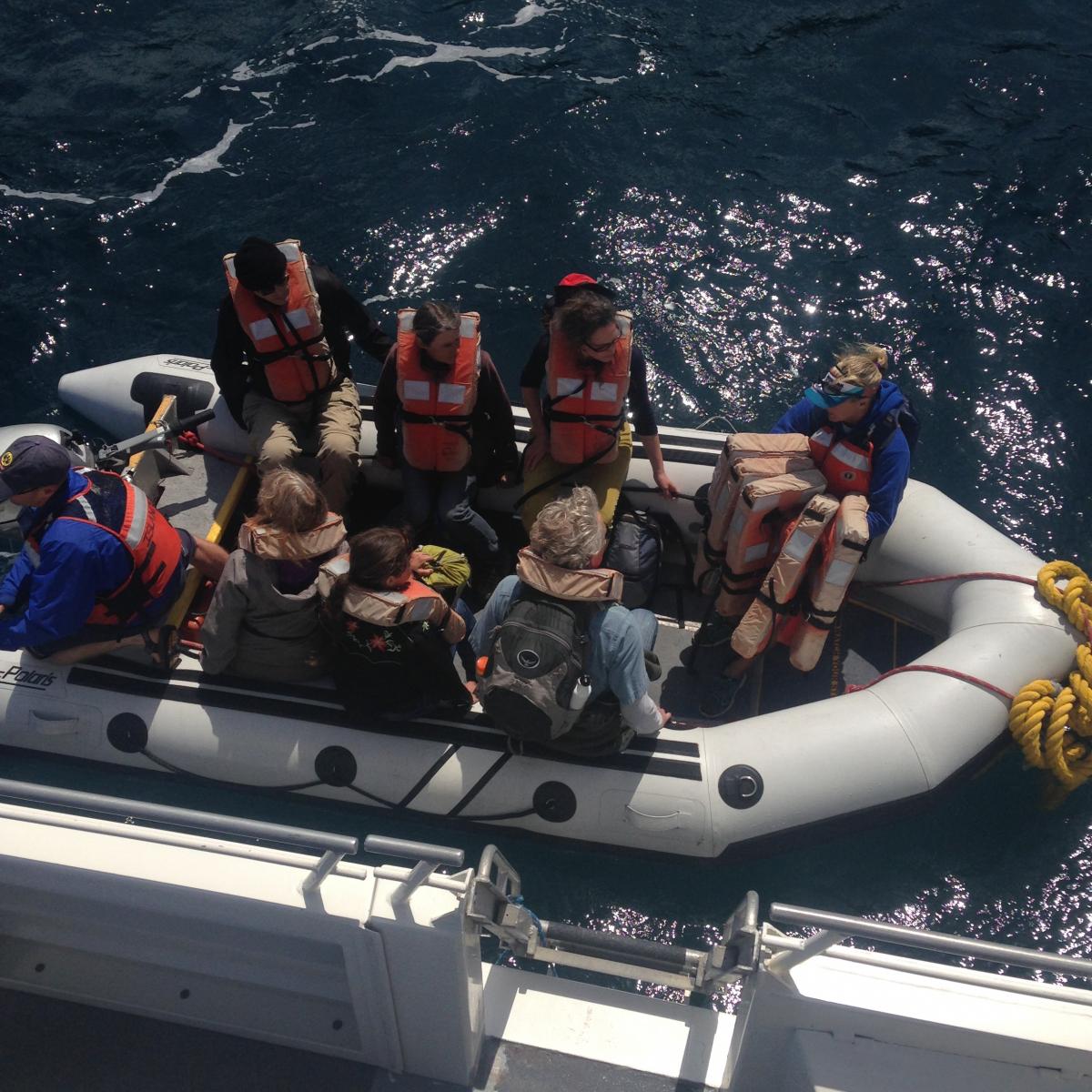 A crew of ethnobiologists get quick tips on exiting the zodiac after a hike in the Channel Islands. This tour was one of field trips at the 2015 meeting in Santa Barbara
SOE has music nights, mead-making workshops, a yearly set of field trips where you could go birding with Gene Hunn, botanize with Nancy Turner or get supportive career advice from Distinguished Ethnobiologist Award winners as well as past and present editors and board members. A few years ago at the banquet (/variety show) a group of professors wrote and performed the Ethnobiology song, we heard sea shanties and folk ballads and French Canadian sing-alongs.
Needless to say, this ain't your ordinary Society. So if you're feeling a little lost on the lonely road of the academic, SOE is a great way to get plugged into an international community from which to draw inspiration, direction, and encouragement. The next meeting in Tucson is going to be big one so we hope to see you there!