Tags:
By Sam Bosco & Brad Thomas
May 25, 2019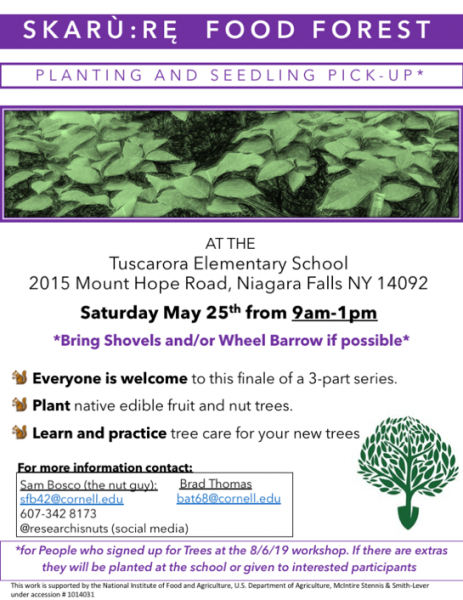 Digital flyer for the Skaru:re Food Forest planting and seedling pick-up
This article is about a university sponsored event on sovereign Indigenous territory in upstate New York, USA and written from two unique perspectives
***
Written by, Sam Bosco (Horticulture PhD Student, Cornell University)
Niagara's Falls came from the sky this morning as thunderstorms rolled across the Escarpment, pouring rain over the Tuscarora Nation and surrounding towns. Undeterred, we unloaded nearly 250 fruit and nut tree seedlings from a CornellFleet Dodge Caravan and Brad Thomas's (Snipe Clan, Tuscarora) pick-up truck. Today, Nation members took home tree seedlings they signed-up for nearly a year earlier at the first of a three-part workshop series co-organized by Cornell University PhD student, Sam Bosco, and collaborators at the Nation. This was a collective result of a "community engaged" research project highlighting the significance of forest foods and relationships to Haudenosaunee Food Sovereignty, focusing on the Tuscarora Nation. Part 1 (August 3, 2018) was co-organized with Mia McKie (Turtle Clan, Tuscarora) and Waylon Wilson (Deer Clan, Tuscarora) and included a tree ID walk, an introduction to the project, and an opportunity for folks to sign up for free native fruit and nut seedlings to plant in 2019. Part 2 (December 16, 2018) was co-organized with Vince Schiffert (Beaver Clan, Tuscarora) and focused on processing and cooking both traditional and contemporary Indigenous recipes using nuts like black walnut, acorns, chestnuts, and hickories. With the combined help of Brad and Vince, Part 3 was about delivering the promised trees, helping folks plant them, and establishing the Skaru:re Food Forest at the Tuscarora Nation Elementary School with about 30 fruit and nut trees and shrubs on the school grounds.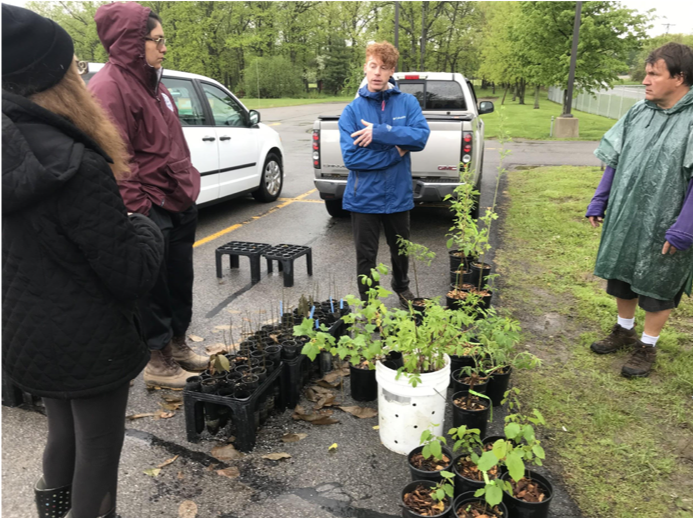 Sam Bosco (PhD student, Cornell University) fielding questions from future tree planters.
**********
Written by,
Brad Thomas (Snipe Clan, Tuscarora & Community Partner, Tuscarora Food Forest)
The forecast for the Tuscarora Nation called for thunderstorms and a 90% chance of rain, but it was a prime tree planting time of year and we had plans of planting 30 plants at the Elementary School and handing out over 200 trees to people who ordered at the Part 1 workshop last November.
In a perfect world we were going to be holding a formal workshop reviewing techniques and different methods of keeping everyone's saplings alive, with a live demonstration of planting right on the school grounds and picnic grove.
*Newflash* we do not live in a perfect world but sometimes things work out perfectly. As the rain and thunderstorm came, it became apparent that the seedling pickup was going to become more of an informal tree pickup station.
There were a few who braved the downpour to meet us at the 9am pickup time and these new tree keepers were able to ask questions about their new saplings and get a personal rundown of how to keep their trees healthy.
It was a very effective method of communication to allow people to ask Sam (who grew the saplings from seed) questions that they were interested in asking rather than sit through a lecture and demonstration that they may already have strong knowledge in and lose interest.
As the day went on we caught a break in the weather around 11am. This gave us a chance to work with Vince Schiffert on getting the trees planted at the school and picnic grove. The hope is that these trees can grow into a resource for newly propagated trees, education and food!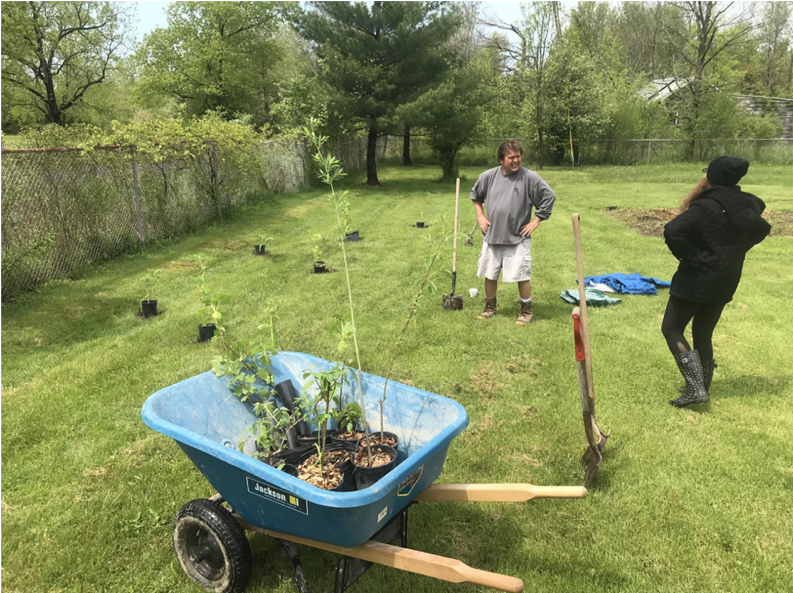 Vince Schiffert (Beaver Clan, Tuscarora) taking a break from planting to chat w/ Lena Rickard (Turtle Clan Mother, Tuscarora).
For those who don't know Vince, he has been a key member of the Tuscarora community working as a teacher at the Tuscarora Elementary School for a long time and a very involved member of the Tuscarora History Society. He has also been a longtime staple in the lacrosse community coaching at Niagara Wheatfield High School, the closest high school to the Tuscarora Reservation where many nation members have played. Vince has also coached and represented Tuscarora at the world level with the Iroquois Nationals Lacrosse Team. His knowledge of things past and present is very valuable to have in the community, and he is no doubt a busy man so we were very fortunate to have his help with the entire process of planting these trees.
Through his work he has become interested in native food sovereignty and was excited to get involved with our idea of a Tuscarora Food Forest. Back in the day, nuts were an important part of any indigenous diet; Indigenous peoples of the Northeast would store nuts away for winter and consume them year-round. Some of the favorite nuts consumed by the Iroquois were hickory, pecan and chestnuts.
Nuts are not only a part of Tuscarora's traditional diet but they are also a healthy option that will add protein and healthy fats in your diet. I think eating the way our ancestors did and having a delicious healthy meal is important, but what really puts it over the top is that during nut season you can gather so much food… FOR FREE. Then you can store them and always have food no matter what the season or what your budget looks like.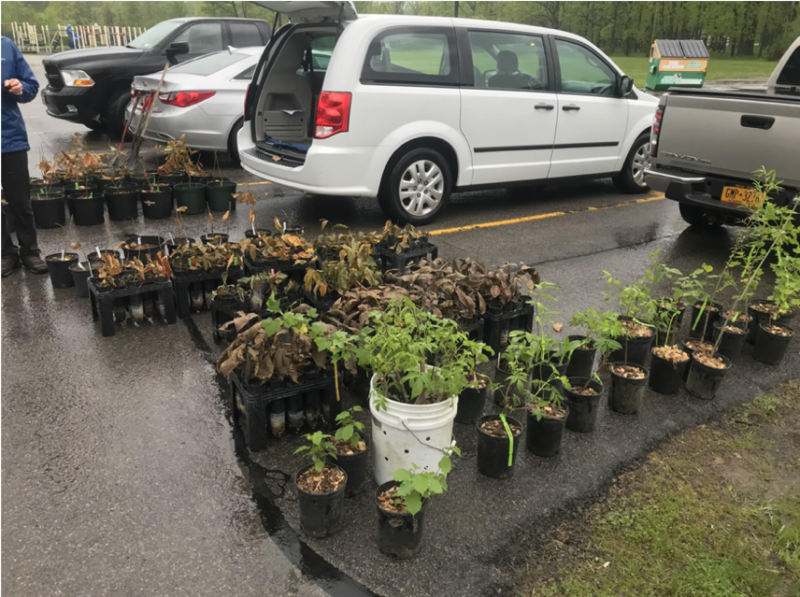 All the trees ready for pickup. They leaves are brown on some because they are dormant until planted!
.. Then
So far, the Skaru:re Food Forest consists of pawpaws (Asimina triloba), northern pecans (Juglans illinoinensis), native elderberries (Sambucus canadensis), hybrid hazelnuts (Corylus spp.), hybrid chestnuts (Castanea spp.), currants (Ribes spp.), willows (Salix spp.), sunchokes (Helianthus tuberosus)and red osier dogwood (Cornus sericea). The trees that were picked up by Nation members included 100 pawpaw, 40 chestnuts and 70 pecans
As the day went on and every tree that was ordered was picked up and accounted for, many people stoped by and chit chatted as natives will do. One line I heard that has stuck with me since I heard it was "Could you imagine walking through the woods and finding a wild northern pecan tree?" It was amazing to put the idea into perspective that the actions of planting trees around the community could eventually lead to one day an older version of yourself or someone from the next generation coming across a random pecan tree and wondering how it may have got there.
Much of the Haudenosaunee (aka Six Nations Iroquois, of which the Tuscarora are a part) way of life is to prepare for the next seven generations and this planting was a direct action that could have a generational effect - be it large or small. For me that was a very fulfilling experience. We are hoping our effort in planting these trees will help restore a lost part of our food sovereignty. Stay tuned on our Facebook pageSkaru:rę Food Forestand our blog: tuscaroraforest.food.blogand keep following us for all things Indigenous food sovereignty. Pass on your recipes and knowledge of finding food growing right off trees in the backyard and we will also have recipes and updates on our trees! Together we can begin to reclaim this piece of Haudenosaunee food sovereignty.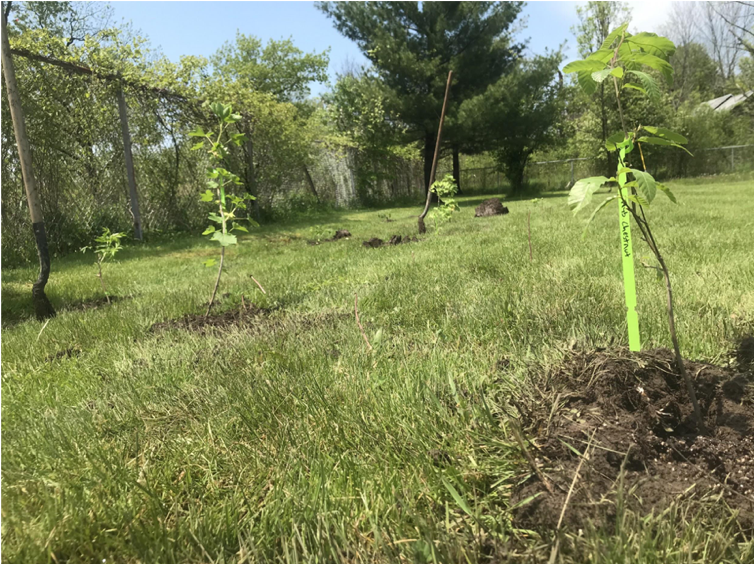 A few of the trees planted at the Tuscarora Elementary School.
This project is made by possible by:
The USDA National Institute of Food and Agriculture, Smith Lever and McIntire Stennis project # 1014031, Engaged Cornell, The American Indian and Indigenous Studies Program (AIISP) at Cornell University, Horticulture Section (SIPS, CALS, Cornell University)
Contact:
PhD Student

Horticulture Section

School of Integrated Plant Sciences

College of Agriculture and Life Sciences, Cornell University

Social Media:

Brad Thomas (Snipe Clan, Tuscarora)

Community Partner

Horticulture Section

School of Integrated Plant Sciences

College of Agriculture and Life Sciences, Cornell University

Editor:

Skaru:re Food Forest (Facebook)