"Rapid Assistance Fund for Indigenous Communities & Individuals in Need" award granted to a lagoon ecological restoration project in Ghana
"Rapid Assistance Fund for Indigenous Communities & Individuals in Need" award granted to a lagoon ecological restoration project in Ghana
Tags:
By James R. Welch
A Society of Ethnobiology "Rapid Assistance Fund for Indigenous Communities & Individuals in Need" award in the amount of $2,500 has been granted to a lagoon ecological restoration project in Ghana. This project, led by President Augustine Nii Tettey Addo, seeks to restore urban lagoon ecosystems through community engagement with the Indigenous Gadangme People of Accra. The award will be used to initiate restoration of the lagoon ecological environment in August 2021 by cleaning the lagoon banks, stopping e-waste and car tire burning, and planting trees with the assistance of 50 volunteers.
According to Addo, a member of the Indigenous Sempe Royal Family of the Ga ethnicity in Accra, Kpeshie and Sakumo lagoon has suffered from devastating deforestation, pollution, and illegal settlement. The local Indigenous peoples, customary landowners of Accra, have been adversely affected by the destruction of this natural environment. Every water body in Accra is sacred, having an Indigenous priest. Kpeshie and Sakumo lagoon is known to the Gadangme people as the two gods of war whose mother is the Korle Lagoon Goddess and father is the Chemu Lagoon.
Today, lagoon degradation is reported to have affected the city's climate pattern by increasing temperatures, reduced the prominent butterfly season, diminished aquatic life, interrupted migrant bird occupation, destruction of amphibian habitat, and compromised human recreation potential. The lagoon ecological restoration project seeks to restore water quality and temperatures, restore the lagoon as a wildlife habitat, protect its heritage and cultural status, and promote ecotourism and scientific environmental research. The project is executed by the non-profit GYG (Global Young Geographers) Project Foundation, based in Accra, which advocates for environmental protection, appropriate climate change management, and veganism.
Addo met with the Honorable Ahmed Adjei Sowah, Mayor of Accra, on July 14, 2021, at the Accra Metropolitan Assembly to discuss environmental issues affecting the city. The principal subject addressed was ongoing pollution of the coastal estuary, deleterious wildlife impacts, local climate change, and health of city residents. The mayor informed Addo that he supports the creation of a partnership to mitigate the situation along the lagoon banks. The mayor gave assurances that the project area will be protected from further human pollution to ensure the project's success. The two also agreed that the initiative would begin in August with the financial assistance provided by the Society of Ethnobiology.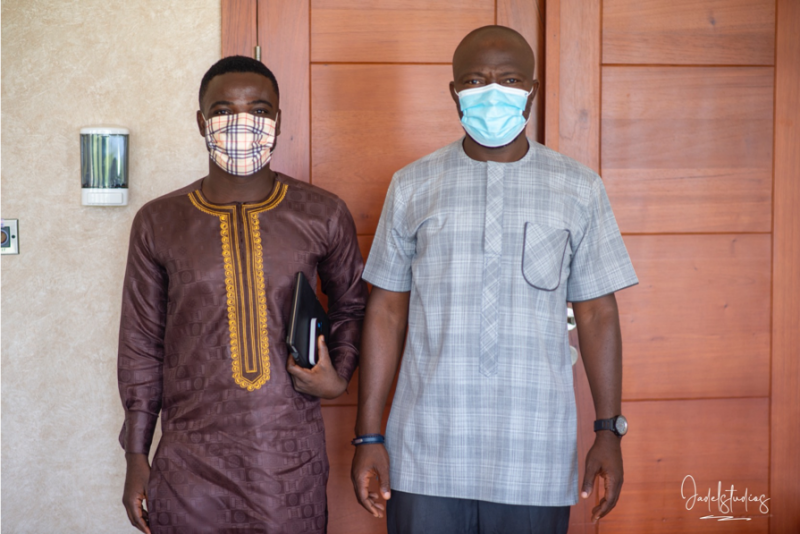 Augustine Nii Tettey Addo meets with the Honorable Ahmed Adjei Sowah, Mayor of Accra, on July 14, 2021, at the Accra Metropolitan Assembly