Harvesting xwíxwikw' (blueberry) and t'ú7xwaý (balsam fir) in Skwxwú7mesh (Squamish): Taking a plant-based approach to Reconnecting with Health
Harvesting xwíxwikw' (blueberry) and t'ú7xwaý (balsam fir) in Skwxwú7mesh (Squamish): Taking a plant-based approach to Reconnecting with Health
Tags:
By: Leigh Joseph, PhD Candidate at the University of Victoria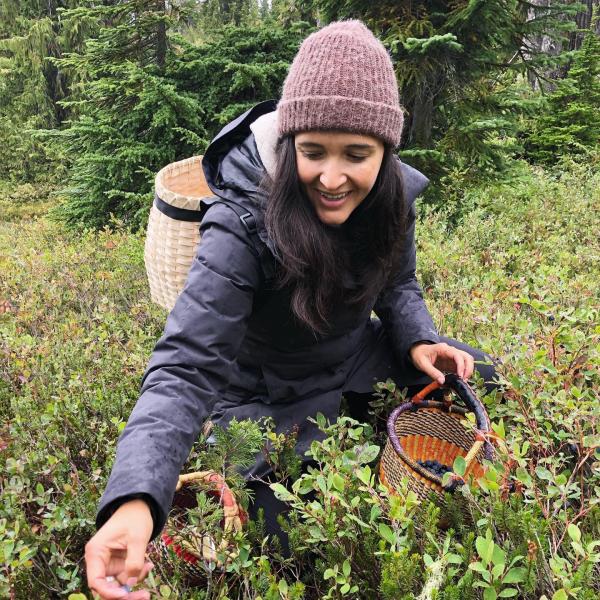 Leigh Joseph harvesting blueberries near Squamish, British Columbia. Photo credit: Leigh Joseph.
My ancestral name is Styawat and I am from the Skwxwú7mesh (Squamish) First Nation. As an ethnobotanist, researcher and community activist, my aim is to contribute to cultural knowledge renewal in connection to Indigenous plant foods and medicines. Wherever possible I draw on teachings learned from family and community members that are connected to Indigenous plants and the land.
I am a doctoral candidate in the School of Environmental Studies at the University of Victoria. My doctoral research focuses on the cultural and health benefits of applied Indigenous ethnobotany in relation to the Type 2 Diabetes crisis in two Indigenous communities in Canada: Skwxwú7mesh (Squamish) First Nation in southwestern British Columbia and the Tr'ondëk Hwëch'in in Dawson City, Yukon.
As part of my doctoral research I have been running a one-year land-based program for Squamish Nation members to reconnect with plant knowledge and experiences. It has been important to ensure that each trip is accessible for people of a variety of ages and mobility levels. So far we have done devil's club, Oregon grape and rosehip workshops.

Participants begin each session with an opening circle (left) before beginning harvesting, you can see Leigh harvesting devil's club here (right). Photo credit: Leigh Joseph.
The most recent land-based session was a xwíxwikw' (blueberry) and t'ú7xwaý (balsam fir) harvesting trip into the mountains around Squamish. We were able to drive participants into the subalpine on a parks access road which meant people who wouldn't have been able to hike in were able to join and pick blueberries, in some cases, for the first time. And the blueberries were plentiful!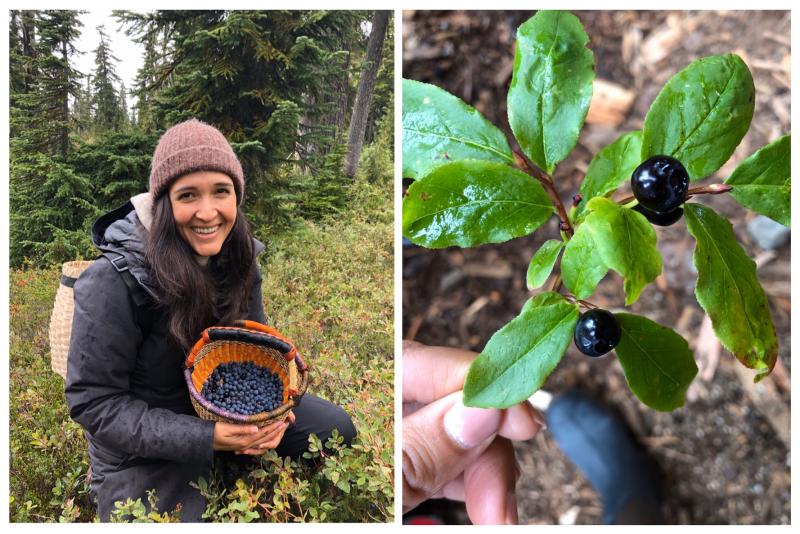 Leigh holding a basket of blueberries (left) and blueberries on the bush (right). Photo credit: Leigh Joseph.
When we arrived, we held an opening circle as this is how we begin and end each land-based session. Starting each meeting with a circle gives all the people present a chance to check in internally to see how they are feeling and then to have an opportunity to share this with the group in a way that they feel comfortable and supported. Holding a circle is both a cultural teaching as well as a way to ground each session in a mindful, culturally relevant way. From a research perspective starting each land-based session with a circle is very helpful and allows for opportunities for reflexivity within the research through identifying any challenges or concerns that participants may express. We then spoke about harvesting protocols and the benefits of xwíxwikw' (blueberry) and t'ú7xwaý (balsam fir) to our health as Skwxwú7mesh (Squamish) peoples.
Looking out over the subalpine meadow and witnessing our people being out on the land is a powerful experience for me. To me, this is exactly what my research and doctoral work is about: taking down barriers to accessing plant foods and medicines that nourish our bodies, minds and spirits as Indigenous people. It is this kind of time spent out in our natural environments that leads to building the lived experiences within individuals. It is from here that people can renew connections to place, identity and health. Plus, blueberries are delicious!
Participants harvesting in meadow. Photo credit: Leigh Joseph.
I look forward to the months ahead where our group will continue to learn in hands-on and land-based ways about how to reconnect with culturally important plants. This work fills my heart and lifts my spirit and will guide me in contributing to my chosen field of ethnobotany.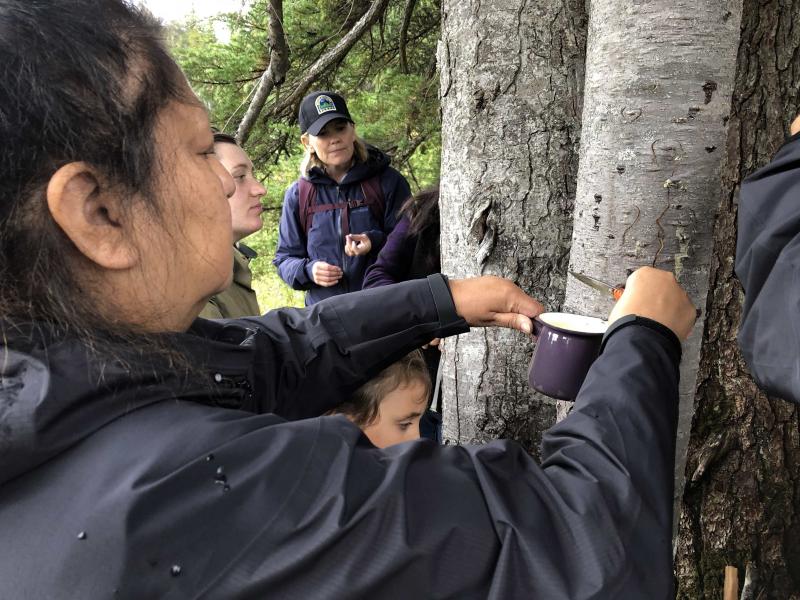 Harvesting balsam fir sap. Photo credit: Leigh Joseph.