3 Things Ethnobiologists Can Do to Defeat White Supremacy
3 Things Ethnobiologists Can Do to Defeat White Supremacy
The perspectives of white supremacists have gotten a lot of air time this week, and it is a good time to think about what we can do refute and discredit them, and to support the communities they seek to victimize. Many ethnobiologists are people of color who bravely do the work of standing up to white supremacy every day – society members like ethnobotanist Linda Black Elk, of the Medic + Healer Council that kept water protectors safe and healthy at Standing Rock. Others of us, especially if we are white and trying to stand in solidarity, have a responsibility to amplify and support the efforts of people of color to defeat the ideology of white supremacy and dismantle its many institutions. The following suggestions are focused on the United States and Canada, but we would love to hear ideas particular to other parts of the world in the comments.
Work for the protection of lands and ecosystems that sustain non-white people — and while you're at it, make sure the communities you work with get to define what it means to manage, protect, or contaminate the land.
Indigenous and local people have always been keen observers of the environment, and often they are thoughtful managers of the natural resources that they rely on — but only recently have scientists and governments started to wise up and respect them as caretakers of useful knowledge. The 500 year lag between European colonists showing up in North America and it occurring to any of them to ask Indigenous people for advice is a direct result of the ideology of white supremacy. The ideology of white supremacy has kept state managers from seeing the pragmatic benefits of tapping into such vast knowledge, and meanwhile has served as a justification for the fact that although many Indigenous communities should have legal rights over their lands per treaty agreements, these are rarely acknowledged.
Slowly, the concept of traditional ecological knowledge has trickled out of the fields of anthropology and ethnobiology and made it into board rooms, town councils, and legislatures in the United States and Canada. Traditional ecological knowledge (sometimes abbreviated as TEK) refers to a constantly evolving body of knowledge and beliefs held by a community concerning the relationships between people, plants, animals, and the landscape. Traditional ecological knowledge has now become a common part of environmental impact assessments in some western US States and Canada, but ethnobiologists still have a responsibility to expand its influence and to safeguard its original, radical meaning. This is a problem that ethno-ornithologist Dr. Felice Wyndham eloquently addresses in her editorial "The Trouble with TEK," in our most recent edition of Ethnobiology Letters. Traditional ecological knowledge resists seamless integration into Western scientific assessments, because it includes both spiritual systems and social institutions that continuously recreate knowledge and belief.
There were many examples of ethnobiologists using traditional ecological knowledge to battle white supremacy at our most recent Society meetings in Montreal, but I'll just give you one example. McGill University anthropologist Janelle Baker works with the Bigstone Cree Nation and in Fort McKay, Alberta, a Cree, Dene, and Metis community dealing with the complex economic and environmental effects of oil sands extraction projects. If you've never heard of oil sands, you can read more about them here — essentially, they are sands saturated in bitumen, a viscous form of petroleum (the controversial Keystone XL pipeline is meant to transport the output from these mining operations across the US). Her goal is to document the full environmental, social, and spiritual effects of oil sands development on these communities, and to combat the old myth (also born of white supremacy) that Indigenous people are not using their lands. To do this, she is focused on the foods that community members gather from their forests – are they still safe? Are they still healthy? Importantly, how do local people define contamination and health? To defeat white supremacy, we need to move beyond how white communities define risk and safety.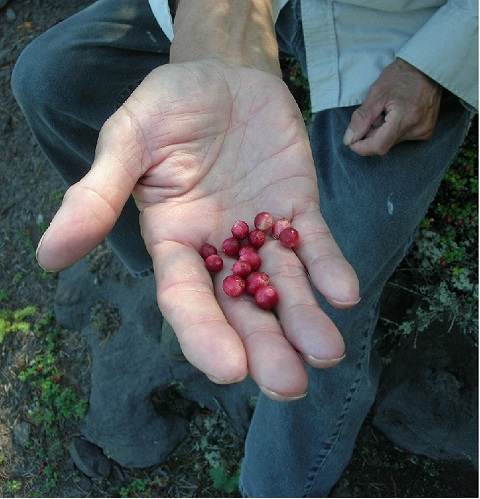 Photo: J.Baker
Use the histories written on the land to combat white supremacist narratives.
Many of our archaeologist colleagues have been changing their profile pictures to the iconic image of Indiana Jones punching a Nazi – but seriously, guys, there are better role models out there than Indy (who, when he wasn't punching Nazis, liked to raid the tombs of Indigenous people and steal artifacts for American museums). What can those of us who study the deep past do, other than punch Nazis?
When I talk about what I study, pre-Columbian North American agriculture, people often appear baffled. They imagine that in ancient times the Indigenous people of North America wandered through a pristine wilderness, leaving no mark on a land that was destined to be "settled" by European colonists. Agriculture does not compute, nor do words like history and civilization. What many do not realize is that their conception of pre-Columbian North America also has its roots in the ideology of white supremacy, and that by recreating it generation after generation, they are erasing Indigenous people and their histories. Archaeologists have sometimes been part of the problem, either by their active attempts to obscure the connection between ancient sites, artifacts, and human remains and living Indigenous communities, or by their retreat into seemingly politically neutral, esoteric (some might even say, boring!) topics.
Luckily, we have some laws in the US and Canada that make space for archaeologists to work with Indigenous communities to assert their history and rights over lands and resources. Unfortunately, we don't always live up to our professional obligations. In both nations, an archaeological survey is a required part of the environmental assessment before federally funded development projects can proceed. But even trained archaeologists sometimes miss the forest for the trees — quite literally in the example presented by Smithsonian fellow Dr. Chelsey Geralda Armstrong at our recent Society meetings. She outlined her work documenting dozens of sites along the Skeena River, in British Columbia, another region at risk of being transformed by fossil fuel extraction, which had been missed by previous archaeologists in their assessments. Many of these places are not "sites" as archaeologists usually define them — the foundations of houses, scatters of stone tools or ceramic sherds — rather, they are culturally mediated ecosystems.
A recent paper in American Anthropologist by Dr. Armstrong and her colleagues (authors include both other academics and Indigenous community members) shows how cultural landscapes can be recognized, described, and protected. The list of fascinating landscapes and places documented by these researchers is long, and includes modified forests around old village sites, managed groves of berry bushes and other perennial plants, and beaches modified to create habitat for mollusks (the poetically named "clam gardens"). Recognizing these places is the first step to protecting them through community-based conservation and restoration projects. These landscapes are living proof of the history and ingenuity of Indigenous communities, and also a testament to an alternative way of being in the land that seeks to enhance and sustain natural resources, rather than to extract them.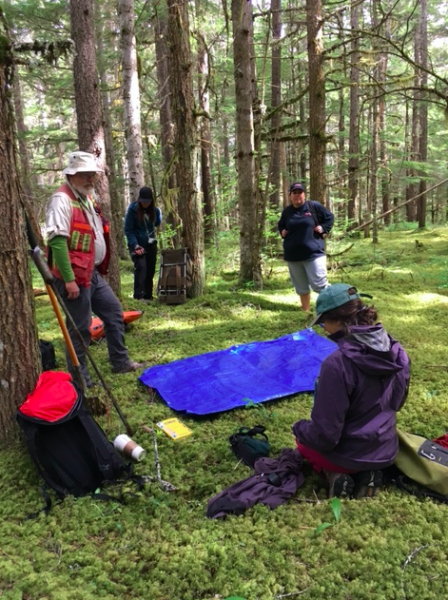 Photo: C.G. Armstrong
Decolonize the classroom.
Are you a teacher? Great! Its syllabus writing season, so now is your chance! Assign some non-white authors. Teach your students about scientific racism, and how the academic fields of biology and anthropology are both deeply implicated in its rise. Use resources created by communities that are resisting white supremacy. Create classroom projects that are more than just academic exercises – how can you get your students interested in local case studies and talking to community members outside the high school or university? If you already have great ideas along these lines, consider sharing your syllabus with other ethnobiologists on our Society website. Are you a student? Question your teachers about what they present as the canon on a particular subject. Are there other perspectives that are being ignored or silenced? Seek sources of knowledge outside of academia, and listen with respect.
By Natalie G. Mueller, Forage Co-Editor