What is the Ethnobiology Conference?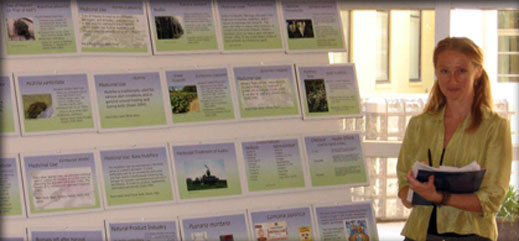 The annual Ethnobiology Conference brings together people from an extraordinarily rich variety of backgrounds, disciplines, and geographic locations, all seeking to understand the myriad interactions of human cultures with plants and animals, past and present, worldwide. It attracts academics, students, museum staff, government and non-governmental agency personnel, interested laypeople, and Native/indigenous community members. Relevant fields go from Anthropology to Zoology: animal husbandry, agriculture, archaeology, botany, chemistry, cuisine, ecology, education, ethnology, evolution, forestry, linguistics, mycology, nutrition, pharmacology, taxonomy, and much more. Participants come from around the globe—the U.S., Canada, Mexico, Central and South America, Britain, Europe, China, Indian, Australia, Southeast Asia—to enjoy what for most is the most exciting and energizing conference they attend all year. Sponsored by the non-profit Society of Ethnobiology, the conference is held in the spring, in a different location each year. Meetings are usually hosted by university campuses or museums in the United States, although they have been held twice in Mexico and once in Canada.
The conference begins with an evening reception and registration followed by two days of invited and contributed papers, poster presentations, and many opportunities for discussion during and between sessions. Oral presentations, lasting 15 minutes with time for questions, are scheduled in both plenary and concurrent sessions. Students are encouraged to submit their paper or poster for the "Barbara Lawrence Award" competition for best student presentation. In addition to the formal papers, demonstrations of traditional cultural arts with an ethnobiological flavor have included basketmaking, acorn cooking, agave roasting, fiberwork, wood carving, making musical instruments, spinning wild silk, and more.
The conference culminates with a Friday evening banquet, usually featuring local indigenous foods, a keynote speaker, and native music and dance traditions of the region. On Saturday the conference is followed by various optional field trips to sites of cultural and biological interest. The number of people attending varies from year to year, usually from 150 to 250 but sometimes over 400. The relatively intimate size of the Ethnobiology Conference encourages participants to get to know one another and discuss their research and other mutual interests in depth.
Scholarship support for Native people to participate in the 2007 and 2008 Ethnobiology Conferences was received from The Christensen Fund, with the goal of building and sustaining relationships between Native people and academic researchers, promoting creative solutions to environmental management issues and preservation of biocultural diversity for the future.