The 2019 SoE Annual meeting will be held in Vancouver, B.C., May 8–11, 2019, in the traditional, ancestral, and unceded territory of the hən̓q̓əmin̓əm̓-speaking Musqueam people, on the University of British Columbia campus.
The conference theme is "Voices" to honor ethnobiology and language, song, stories, and activism. However, all ethnobiological oral or poster submissions are welcome.
Stay tuned for updates, but mark your calendar now! Below is a general timeline so that you can plan ahead now. We will not be opening the full website until the fall of 2018.
#SoEthnobio19 #SoE2019Voices
KEY DATES
September 2018

Call for Papers and Organized Sessions will go out.
First call for awards and travel scholarships.

October 2018

Deadline for the Organized Sessions.

November 2018

Open abstract submission portal!
Questions? email: Dr. Liz Olson (Conference Coordinator) conference@ethnobiology.org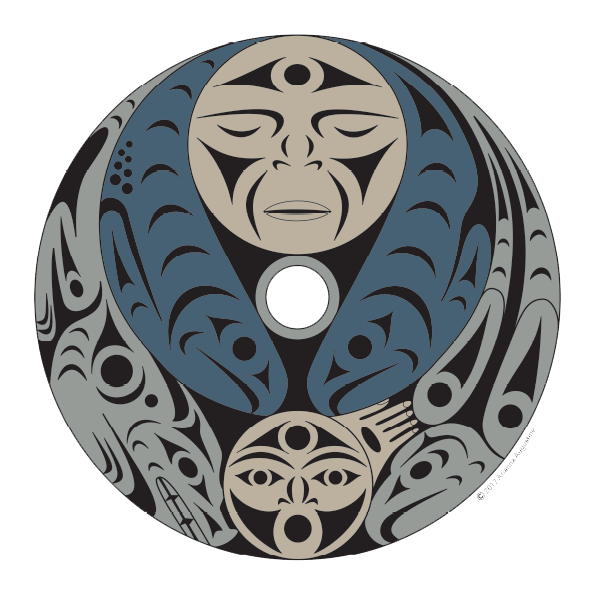 "Salmon People" by Arianna Augustine (Stz'uminus Nation)
The Salmon People design is based on the creation story as told by Stuart Pagaduan (Cowichan Tribe). This ancient story tells about how the creator, Xeel's, scooped up some of the salmon and released them to become the Gulf Islands. Xeel's said, "From now on you will provide for and take care of the people. You will provide them with food from your beaches and medicines from your forests." Xeel's then scooped up more salmon and said to them, "You are no longer Salmon, you are people. You will take care of the islands and you will tell others how the islands were created." The transformation was complete and still to this day, every fall when the Salmon travel to their spawning ground, they are happy to see their relatives the Gulf Islands and when they travel up the river they are happy to see their other relatives, the people who live in the villages.
The design is in the shape of a spindle whorl, a circle, representing the cyclical nature of life. There are three internally tangent circles. The most internal circle, at the top of the design, is a representation of the face of the creator. The next circle outlines the creator's arms, both with the design of a salmon; one representing the people and the other representing the gulf islands. The wolf and eagle are in the outer circle, representing the feathered and four-legged.
Here's a quick glimpse at some conference highlights. Details will be posted as they are available.
Wed: A variety of workshops, for instance:

Salish weaving

Indigenous mapping

Native plant garden tours and hands-on workshops

Wed evening: Welcome Reception

Thurs: Welcome and all-day sessions.

Thurs evening: Film screening, student social events

Friday: All-Day sessions.

Friday evening: Tours and Banquet.

Saturday: Four field trips to choose from, each hosted by local First Nations.