Current Board of Directors
William Balée
President (May 2013–May 2015)
William Balée is Professor of Anthropology at Tulane University. He has carried out long-term ethnographic fieldwork with several different indigenous societies associated with the Tupí-Guaraní family of languages in Brazil, Bolivia, and Argentina. Most of his work has been with the Ka'apor people of eastern Amazonian Brazil. Themes of Balée's research include historical ecology, ethnobiology, and Greater Amazonia. He recently collaborated with Brazilian scientists in directing the first forest inventory of a monumental archaeological enclosure, known as a geoglyph, in Acre, of the western Brazilian Amazon. His most current research project involves comparative study of arboriculture in Amazonia and the phytogeographic province known as Malesia.
Scott Herron
President Elect/Vice President (May 2013–May 2015)
Scott M. Herron is a full professor of Biology at Ferris State University in Big Rapids, Michigan. He is also a visiting associate professor of Ethnobotany at the University of Michigan Biological station, where he has taught an advanced Ethnobotany field course since 2003. Scott studied Ethnobotany, cultural anthropology, paleoethnobotany, American Indian studies/history, and linguistics during his undergraduate and graduate careers. He continues his research as a specialist in the Great Lakes region, with focus on the Anishinaabek culture (Ojibwe, Ottawa, Potawatomi, Cree and Menominee). He directs the Wild Rice and Ethnobiology Lab at Ferris, is the faculty advisor for the Circle of Tribal Nations, and he co-chairs the Native Wild Rice Coalition. Scott has emphasized the outreach of academics into undergraduate and high school research and mentoring, especially targeting American Indian students as future scientists, researchers, and Ethnobiologists. He has helped develop the framework for curriculum and certification with the Open Science Network, collaborating with SEB, NSF, BRIT, and continues to do outreach with the Ecological Society of America, where he actively helps direct the activities of the Traditional Ecological Knowledge section. He hopes to grow the Society with emphasis on training the next generation of multicultural, multidisciplinary Ethnobiologists.
Steve Wolverton
Treasurer (March 2011–May 2014)
Steve is an environmental scientist and archaeologist specializing in paleozoology of North America during the Holocene. He is associate professor in environmental archaeology and conservation paleozoology at the University of North Texas, Department of Geography. His interests span ecology, paleoecology of North America, environmental archaeology, paleozoology, and conservation biology. His recent research focuses on white-tailed deer and black bear biology and the use of datasets from zooarchaeology and paleontology to address modern issues in conservation biology. In addition, Steve has interests in analytical chemistry and has on-going research in artifact residue analysis including fatty-acid and protein residues from pottery. More information about Steve Wolverton.....
Denise Glover
Treasurer Elect (May 2013–May 2014) & Treasurer (May 2014-May 2017)

Cynthia Fowler
Secretary (March 2012–May 2015)
Cissy Fowler teaches anthropology and public health at Wofford College. She is interested in multispecies interactions between people, plants, and animals at the local level and their links to regional- and global-level phenomena. Her teaching practices combine transmitting scholarly information with advocacy of human rights and ecosystems health. She has participated in interdisciplinary research in ethnobiology, ecosystems health, and medical anthropology, in Southeast Asia, Oceania, the U.S. South, and Brazil. Her current focus is on the critical study of fire science and the use of fire to manage landscapes. Cultural identity and natural resource management in Kodi (Sumba, Indonesia) was the focus of her doctoral research and continues to capture most of her attention. More information about Cissy Fowler....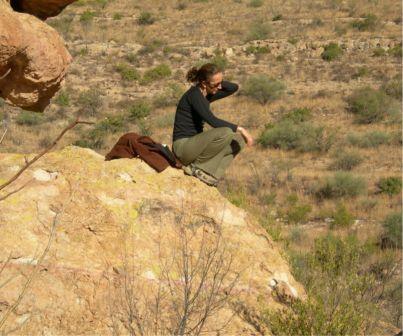 Kimberlee Chambers
Board Member - Promotion, Outreach Coordinator: Fund raising and Promotion (March 2012–May 2015)
Kimberlee Chambers (MSc., University of Victoria 2001; Ph.D., University of California, Davis 2006) is affiliated with the Geography Department at Portland State University and an instructor in the Collaborative Design program at Pacific Northwest College of Art in Portland, Oregon. Currently her research focuses on harvesting and commercialization of a native wild chile peppers (chiltepins) in Northern Mexico and the 'locavore' movement in the Willamette Valley, Oregon. Her ethnoecological research bridges disciplines and communities. She has applied her interests in human-environment interactions to research and teaching topics that include agriculture origins and dispersals, Indigenous People's traditional ecological knowledge, traditional land and resource management, local food systems, sustainable development, ecological restoration, and the conservation of biological and cultural diversity. To date, her regions of focus have composed a continuum of landscapes encompassing experiences and interests in British Columbia, Oregon, California, and central and Sonoran Mexico.
James Welch
Board Member - Promotion, Outreach and Inreach Coordinator: Intra- and Inter-Community Promotion (May 2013–May 2016)
Janelle Baker
Board Member - Promotion, Outreach and Inreach Coordinator. Student Outreach (May 2013-May 2016)
Janelle Marie Baker is a PhD student in Anthropology at McGill University. She is a Warren Fellow at the McGill Institute for the Study of Canada, a Vanier Canada Graduate Scholar, and a Canadian Federation of University Women Canadian Home Economics Association Fellow. Her research is on Cree perspectives on wild food contamination in the oil sands region in Canada. This research topic is a response to community's concerns voiced during six years of applied work that Janelle did for First Nations doing traditional land use studies and traditional environmental knowledge research and training. Her MA (University of Alberta) was on Wixarika (Huichol) ethnoecology of amaranth in northwest Mexico. Janelle has designed and taught an ethnobotany course for the International Indigenous Studies Program at the University of Calgary and she is a tutor for the Anthropology Department at Athabasca University (including an online community-based research methods course that she designed and Dr. Leslie Main Johnson's ethnobiology course). Janelle has also facilitated community-based ethnoecology research for a Dayak community in Indonesian Borneo and taught an undergraduate field school ethnoecology methods course for an America NGO at the same time. More information about Janelle...
Kris Gremillion
Board Member – Web Liaison (March 2011–May 2014)
Kris Gremillion is Associate Professor in the Department of Anthropology at the Ohio State University. Her book Ancestral Appetites:Food in Prehistory was recently published by Cambridge University Press. Kris' research interests include paleoethnobotany, the origins of food production in eastern North America, evolutionary theory in archaeology, and dietary consequences of culture contact in the New World. She has published widely on these topics in journals including American Antiquity, Journal of Anthropological Archaeology, and Journal of Archaeological Science and is a frequent contributor to edited volumes on agricultural origins and paleoethnobotany. Her field and laboratory research has focused on the rise of indigenous farming systems in eastern Kentucky and its relationship to land use and anthropogenic environmental change. She continues studying archaeobotanical collections from eastern Kentucky for insight into prehistoric cultivation systems and broader processes of plant domestication. Recently she has become involved in collaborative research into the domestication of seed dormancy in Chenopodium and the role of phenotypic plasticity in plant domestication. Kris also serves as consulting archaeobotanist on a project headed by Shannon Dawdy of the University of Chicago that is investigating the process of creolization in early colonial New Orleans.
Peter Stahl
Board Member - Journal of Ethnobiology Liaison (March 2011–May 2014)
Peter Stahl is Professor of Anthropology at the University of Victoria. He is an archaeologist with a particular geographical emphasis on neotropical lowland areas and research interests in historical ecology, tropical forest ecology, zooarchaeology, vertebrate taphonomy, and Amazonian ethnology. Most of his research takes place in Ecuador where he is currently finishing a collaborative research effort on the Early Holocene zooarchaeology of Las Vegas assemblages in southwestern Ecuador.